Prawn Rice Paper Rolls with Hoisin Dipping Sauce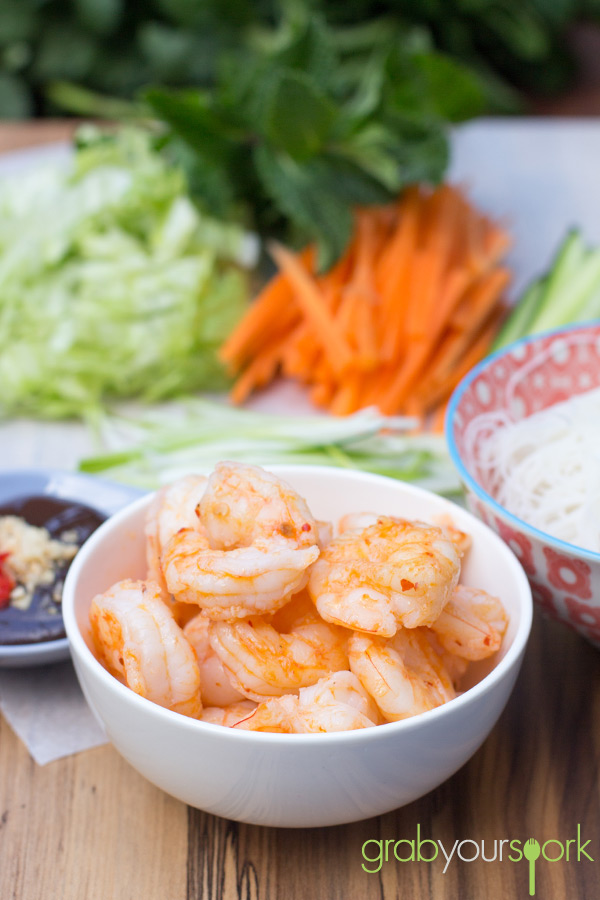 2 – 3 Tablespoons Hoisin Sauce
1 Teaspoon Soy Sauce (Salt Reduced)
½ Teaspoon minced Chilli
½ Teaspoon crushed peanuts
24 spring roll rice paper wrappers
1 large or 2 small carrot, peeled and julienned
1 large cucumber, julienned
3 spring onions, julienned
1 ounce cooked rice noodles/rice vermicelli (optional)
4 large green lettuce leaves, shredded
200g medium cooked prawns, peeled and sliced in half length-wise
Fresh herbs (chives, coriander or mint)
When you're ready to assemble the rolls, fill a shallow dish with warm water.
Dip one rice paper wrapper into the water for 15-20 seconds and place on a clean flat surface.
Fill the rolls: Place a few sticks of carrot, cucumber, spring onion, and small amount of lettuce on top of the bottom ⅓ of the rice paper. Then, a small amount of noodles (if using), a selection of herbs and two prawns. Remember, do not overfill the roll. Start small then add more if needed.
To roll: Tuck over each side, then pull the bottom of the roll and roll over the filling, remembering to roll and use your hands to tuck the filling as you go.
Repeat with the remaining rice paper wrappers and filling.
Serve the spring rolls whole, or sliced in half with a Hoisin Dipping Sauce.