Simple Gingerbread Cookies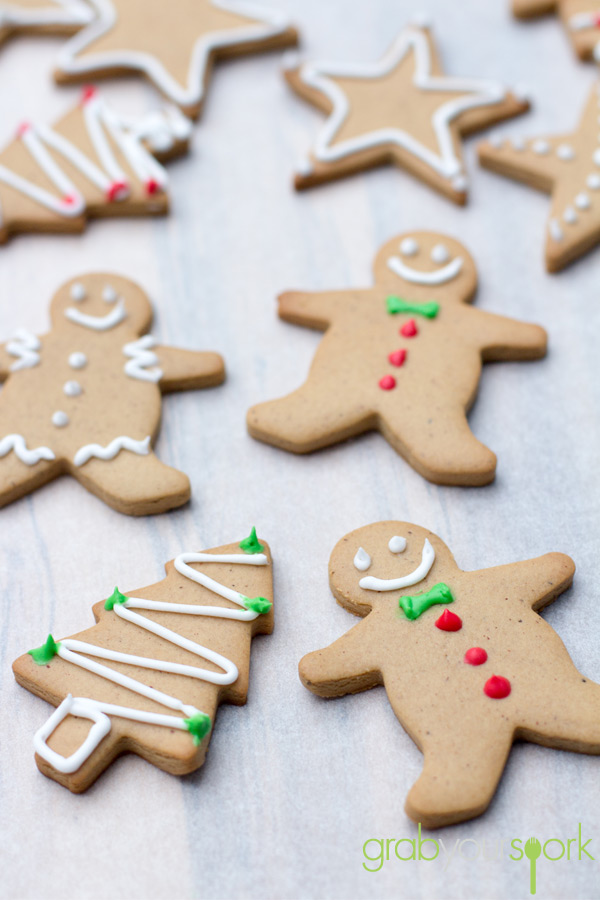 150g butter, softened
½ cup brown sugar
½ cup golden syrup
1 Egg
3 cups plain flour, sifted
1 tbs ground ginger
1 tsp ground cinnamon
½ tsp group nutmeg
¼ tsp ground cloves
1½ cups pure icing sugar, sifted (see note)
1 eggwhite
½ teaspoon lemon juice
Preheat oven to 180ºC. Line baking tray with baking paper.
Melt butter, sugar and golden syrup together in a saucepan, stirring until smooth. Cool slightly. Transfer the butter mixture to a medium bowl. Add the egg and whisk to combine. Stir in the sifted flour and spices. Turn onto slightly floured surface and knead until smooth. Divide the dough into quarters, wrap with plastic and place in the fridge for at least 30 mins or until firm.
Roll each portion out onto a lightly floured surface (or between two sheets of baking paper) to a 3mm thick disc. Cut out your desired shapes. Place onto the lined trays. Bake for 10-12 mins for smaller shapes or 12-15 mins for larger shapes, or until light golden. Set aside on trays to cool completely.
To decorate, prepare royal icing and decorate your shapes for a festive touch.
Lightly whisk eggwhite and lemon juice together in a bowl. Gradually add icing sugar, whisking until smooth and combined.
Divide your icing adding a few drops of colouring if you wish to decorate your gingerbread with a few colours!
Recipe by
Grab Your Spork | grabyourspork.com
at https://grabyourspork.com/recipes/baked-goods/simple-gingerbread-cookies/