Apple and sultana hot cross buns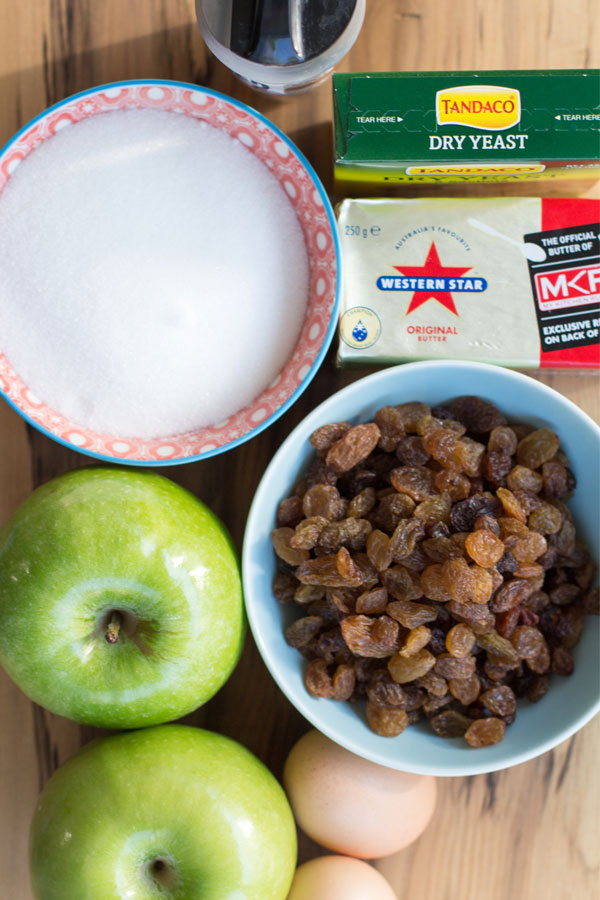 4 Cups Plain Flour
14 g Dried Yeast
¼ Cup Caster Sugar
3 Tsp Mixed Spice
Pinch of Salt
¾ Cup sultanas
¾ Cup granny smith apple, diced
40 g Butter
300ml Milk
2 eggs, lightly beaten
½ Cup Plain Flour
4 to 5 Tbsp water
1 Tsbp Water
2 Tbsp apricot jam
Combine flour, yeast, sugar, mixed spice, salt and apple and sultanas in a large bowl.
Melt butter in a small saucepan over medium heat. Add milk. Heat for until lukewarm.
Add warm milk mixture and eggs to fruit mixture. Using a flat-bladed knife, simply cut the knife through the dough until it almost comes together. Using clean hands to finish mixing to form a soft dough.
Turn dough out onto a floured surface. Knead for 10 minutes, or until dough is smooth.
Place into a lightly oiled bowl. Cover with plastic wrap. Set aside in a warm, draught-free place for 1 to 1½ hours, or until dough doubles in size.
Line a large baking tray with non-stick baking paper.
Punch dough down to its original size. Knead on a lightly floured surface until smooth.
Divide into 12 even portions. Shape each portion into a ball. Place balls onto lined tray, about 1cm apart. Cover with plastic wrap. Set aside in a warm place for 30 minutes, or until buns double in size.
Preheat oven to 190°C.
Make flour paste: Mix flour and water together in a small bowl until smooth, adding a little more water if paste is too thick.
Spoon into a small snap-lock bag. Snip off 1 corner of bag. Pipe flour paste over tops of buns to form crosses.
Bake for 25 to 30 minutes, or until buns are cooked through.
Make glaze: Heat a few tablespoons of apricot jam in a bowl in the microwave for a few seconds until runny and then brush over the hot cross buns with a pastry brush.
Serve warm or at room temperature.