Vegetarian rice paper rolls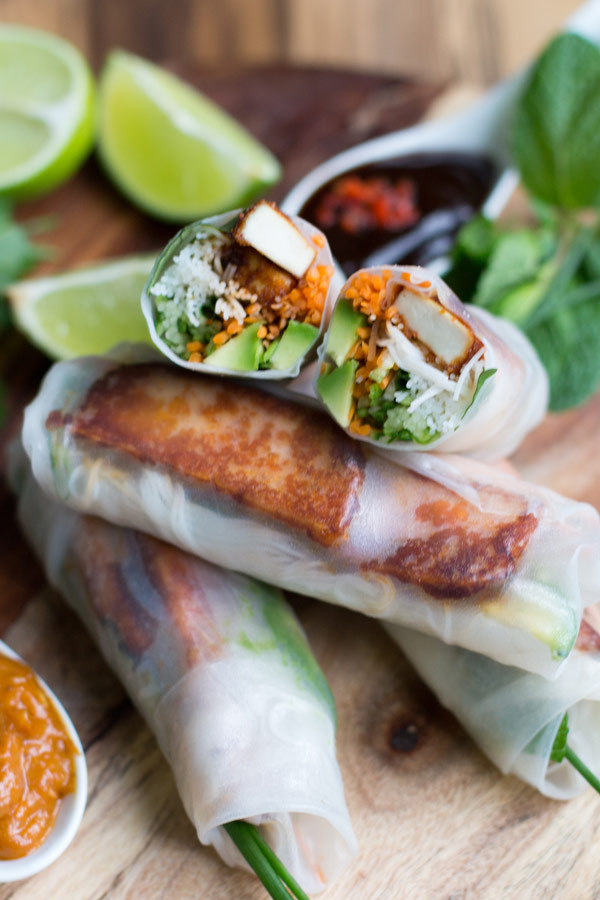 2 carrots, peeled and cut into matchsticks
1 large avocado, cut into slices
Spring onions, cleaned and cut into matchsticks
Fresh herbs (chives, coriander or mint)
1 ounce cooked rice noodles/rice vermicelli (optional)
Rice paper wrappers
Fried tofu, sliced
1 tbsp Sriracha sauce
1 tbsp brown sugar
1 tbsp soy sauce
2 tbsp rice flour
Vegetable oil
Combine Sriracha sauce, soy sauce and brown sugar in a small bowl. Set aside.
Preheat a large fry pan over medium heat. Toss tofu in 2 Tbsp rice flour and cook in vegetable oil, cooking until golden brown. Turn the heat down and add Sriracha sauce mixture to the pan coating the tofu in the sauce. Cook for a couple of minutes until the sauce is sticky and covering all the tofu. Remove and set aside.
Cook the dried vermicelli noodles to packet instructions. Drain and cool.
Once your vegetables are prepped and you're ready to assemble the rolls, fill a shallow dish with warm water.
Dip one rice paper wrapper into the water for thirty seconds, remove and place on a clean flat surface.
Place a couple of tofu pieces along a third of the wrapper. Top with noodles, and a couple of slices of cucumber, carrot, spring onion, avocado and a few herbs. Fold in the sides of rice paper. Then roll from the bottom up, tucking into a tight spring roll shape. (Most rice paper packaging will have directions).
Repeat with the remaining rice paper wrappers and filling.
Serve the spring rolls whole, or sliced in half with a nice dipping sauce.