Japanese Okonomiyaki Recipe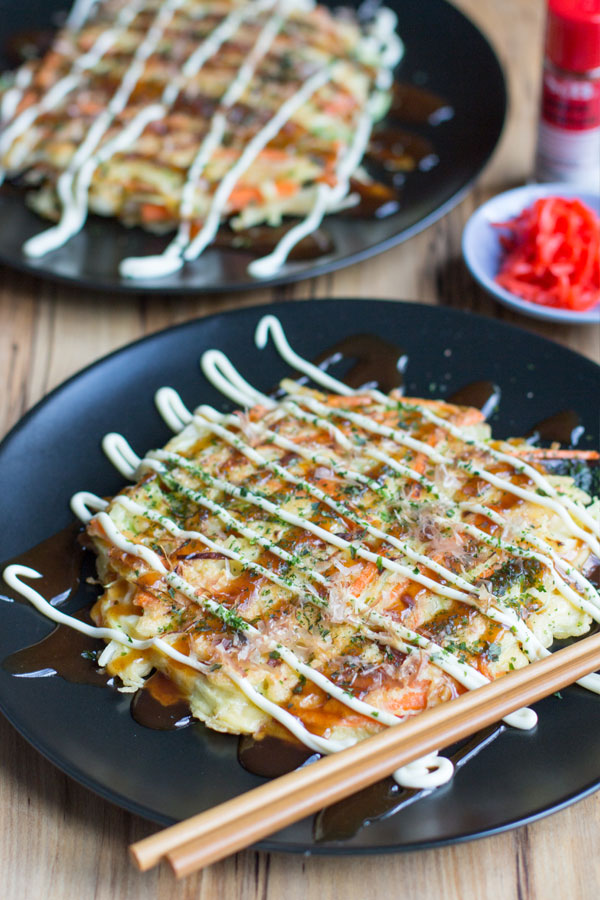 120g Okonomiyaki flour or plain flour
¾ cup water
3 eggs, lightly beaten
500g Cabbage, finely shredded
1 carrot, grated or finely sliced
4 Spring onions, sliced (half for recipe, half for decoration)
Vegetable oil
Okonomiyaki Sauce
Japanese Mayonnaise
Aonori
Dried Bonito Flakes
Pickled Ginger
In a large bowl, whisk together flour and Water until smooth.
Add the eggs to the batter and whisk to combine. Stir in the cabbage, carrot, and spring onions.
Meanwhile, heat a non-stick frying pan over medium-high heat.
Add Okonomiyaki mixture. Using a spatula and form pancakes until ½" thick and approximately (6") across.
After about 3 minutes, flip over pancake and cook for 4 minutes.
Remove to plate and drizzle with Okonomiyaki sauce, Kewpie mayonnaise and sprinkle with Aonori and dried Benito flakes.