Choc Chip Snickers Cookies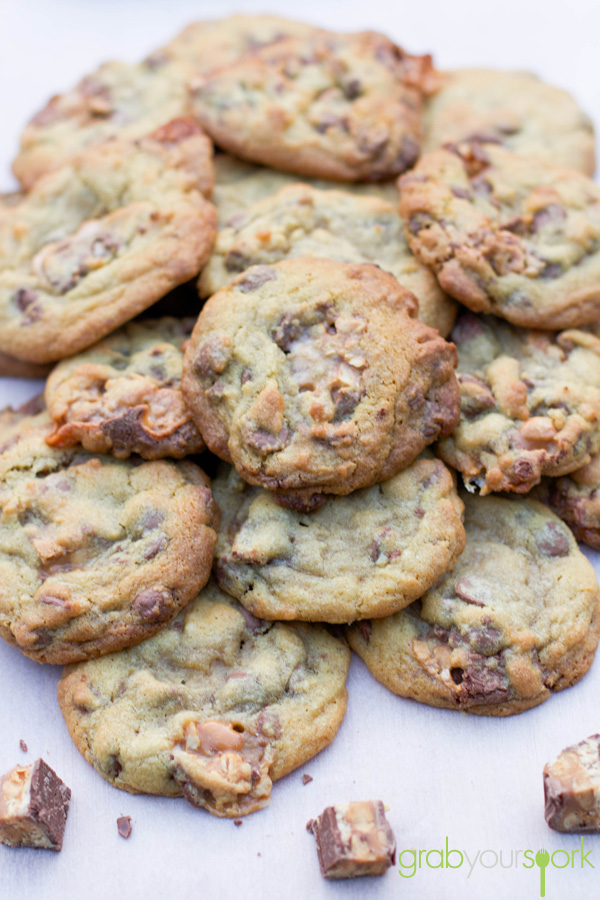 ¾ cup unsalted butter, softened
¾ cup light brown sugar, packed
¼ cup caster sugar
1 large egg
2 teaspoons vanilla extract
2 cups all-purpose flour
2 teaspoons corn flour
1 teaspoon baking soda
pinch salt, optional and to taste
1 heaping cup Snickers, diced small and loosely piled in measuring cup (or any alternative chocolate)
1 cup chocolate chips
Preheat oven to a moderate temperature.
Combine the butter, sugars, egg, vanilla, and beat on medium-high speed until well-creamed, light and fluffy, about 5 minutes (or use a hand mixer and beat for at least 7 minutes).
Stop, scrape down the sides of the bowl, and add the flour, cornstarch, baking soda, optional salt, and mix until just combined, about 1 minute.
Add the Snickers, chocolate chips, and beat momentarily to incorporate, or fold in by hand. (Keep extra snickers pieces to add to dough mounds on tops and sides).
Scoop the mixture into heaped tablespoonfuls on a lined baking tray. Flatten mounds slightly.
Bake for 8 to 9 minutes, or until edges have set and tops are just beginning to set, even if slightly undercooked, pale and glossy in the center. Do not bake longer than 10 minutes as cookies will firm up as they cool.
Store cookies in a airtight container at room temperature for up to 1 week. Alternatively, unbaked cookie dough can be stored airtight in the refrigerator for up to 5 days.
If you have time, refrigerate your dough for 2 hours before baking. If you bake straight away like we did, your cookies will tend to be slightly thinner.
Recipe by
Grab Your Spork | grabyourspork.com
at https://grabyourspork.com/recipes/baked-goods/choc-chip-snickers-cookies/