Pulled Pork Tacos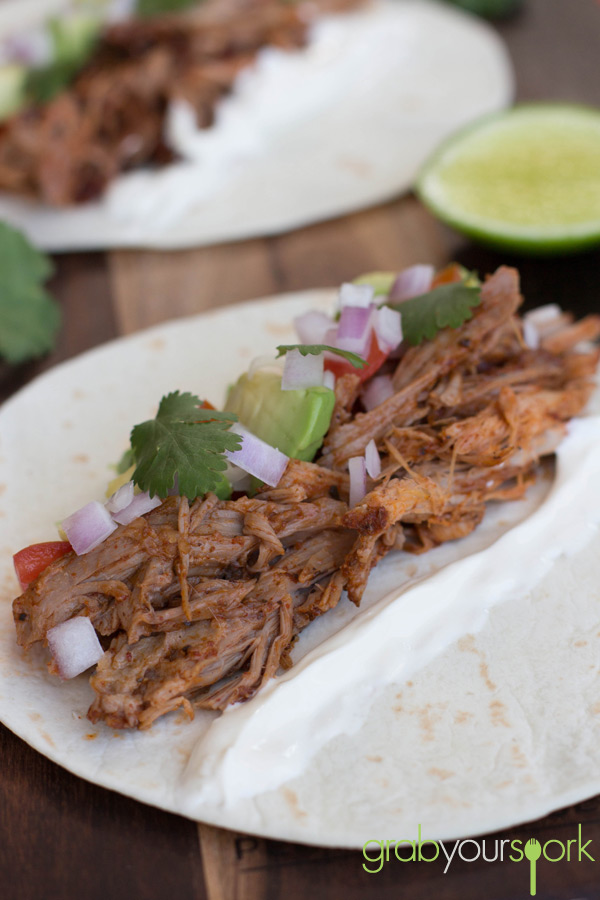 ½ cup ketchup
2 Tbsp + 2 tsp brown sugar
2 Tbsp + 2 tsp apple cider vinegar
1 teaspoon Worcestershire sauce
⅛ teaspoon cayenne
⅛ teaspoon red pepper flakes
Pinch salt and freshly ground black pepper
2 tablespoons paprika
1 tablespoon dried oregano
1 tablespoon freshly ground black pepper
1 tablespoon brown sugar
2 teaspoons salt
½ teaspoon cayenne
1.5 Kgs boneless pork shoulder or loin, excess fat trimmed
Salt and freshly ground black pepper
For the BBQ sauce: Combine the ketchup, brown sugar, vinegar, Worcestershire, cayenne, red pepper flakes and salt and black pepper in a small bowl.
For the spice rub: Combine the paprika, oregano, black pepper, brown sugar, salt and cayenne in a medium bowl and toss with your fingers to mix. Rub the spice mixture onto the pork on all sides.
Place the pork in a slow cooker insert. Add ½ cup BBQ sauce and cover the slow cooker. Cook on high until the pork is fork-tender, 4 to 5 hours, or on low, 8 to 10 hours. Transfer the pork to a carving board. Let the pork stand, about 5 minutes.
Meanwhile add 2 tablespoons of the simmering pork liquids to the remaining BBQ sauce. Bring the BBQ sauce to a simmer in a small saucepan over low heat, about 10 minutes.
Using two forks, shred the pork and discard any excess fat. Heap the pork onto the buns and top with extra BBQ sauce.