French Apple Cake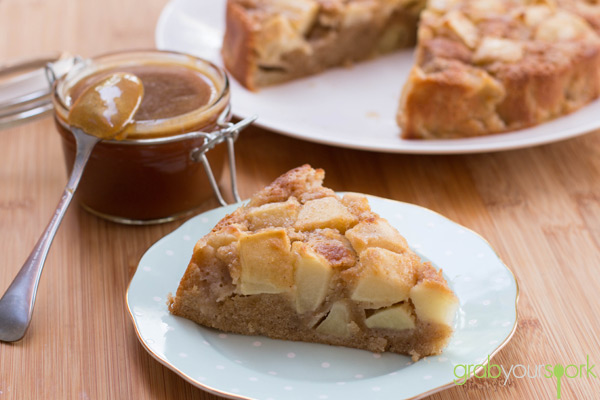 ¾ cp All-Purpose Flour
¾ tsp Baking Powder
pinch of Salt
½ tsp Cinnamon
¼ tsp Nutmeg
2 Eggs
¾ cup Sugar
3 Tbsp Brandy
½ tsp Vanilla Extract
8 Tbsp Unsalted Butter, melted and cooled, plus extra for greasing the pan
4 large Apples (I used 4 Granny Smith), peeled and diced into ½-1 in. chunks
½ cup Sugar
¼ cup Water
3 Tbsp Unsalted Butter
¼ cup Cream
¼ tsp Sea Salt
Preheat oven to 180 degrees Celsius. Thoroughly butter a springform pan.
In a medium bowl, whisk together flour, baking powder, a pinch of salt, cinnamon, and nutmeg. In a large bowl, whisk together the eggs and sugar until light and frothy. Beat in the brandy and vanilla.
Stir half of the flour mixture to the egg mixture. Add half of the melted butter, stir, then add the remaining flour, followed by the remaining butter. Fold the apples into the batter and transfer the batter-covered apples to the already prepared pan.
Set the springform pan on a baking sheet and bake until the centre of the cake is set and a tester comes out clean. Mine took approximately 1 hour, 5 minutes, however, baking times are likely to vary based on the size and moisture content of your apples to be sure to keep an eye on your cake.
Let the cake cool for a few minutes in the pan, then run a knife around the edges, and remove the springform. Allow to cool slightly, then serve with ice cream, whipped cream, or crème fraîche and a drizzle of caramel sauce.
While the cake bakes, make the caramel. Place the sugar and water in a large saucepan over medium-high heat and whisk to dissolve. Cook until the mixture become dark amber in color, about 10 minutes. Remove from the heat, stir in the butter, then slowly stir in the cream and salt. Drizzle over cake. Any leftover sauce can be refrigerated and reheated in a water bath to a pourable consistency.