Choc Mint Fudge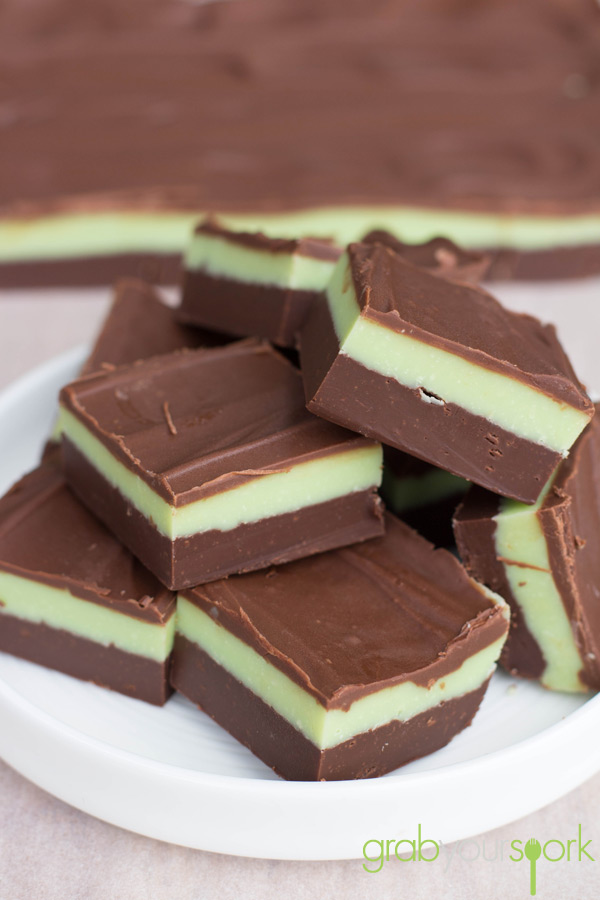 2.5 cups semi-sweet chocolate chips (divided)
395ml can sweetened condensed milk (divided)
1.5 cups white baking chocolate chips
1 teaspoon peppermint extract (or more, go by your taste preference)
2 drops green food colouring
1 teaspoon shortening
Line an 8x8 baking pan with baking paper.
In a small saucepan over low heat, melt 1.5 cups chocolate with ¾ cup sweetened condensed milk, stirring occasionally. Spread melted chocolate mixture into pan and chill for 5-10 minutes.
In another saucepan, melt white chocolate with remaining condensed milk, stirring until completely smooth. Remove from the heat and add peppermint extract and food colouring. Spread mint layer over chilled chocolate layer. Chill for 5-10 minutes as you make final layer.
Melt remaining 1 cup chocolate with 1 tsp shortening in the microwave in 30 second increments. Stir until completely smooth. Spread over chilled mint layer
Refrigerate for at least 2 hours or until fudge is completely set.
Cut into squares. Store in an airtight container in the fridge up to two weeks.