Chicken, bacon and leek pies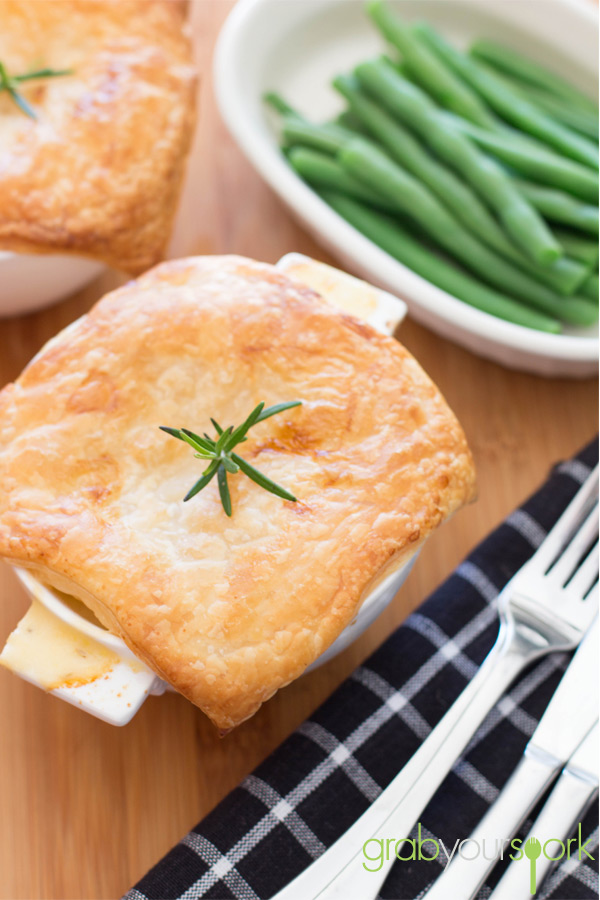 2 tblsp olive oil
500 g chicken, trimmed and chopped
1 leek, sliced and washed thoroughly
2 cloves crushed garlic
1 tblsp chopped rosemary leaves
¼ cup plain flour, sifted
1 ½ cups chicken stock
½ cup single cream
1 sheet puff pastry
Milk or beaten egg
Preheat oven to 200C
Heat the oil in a large frying pan oven a high heat to cook the chicken. Cook for 3-5 minutes or until browned
Add the leek, bacon and garlic and cook for 2 -3 minutes.
Add the flour and cook for 1 minute
Add the stock and cream. Cook, stirring for 5 minutes or until thickened.
Spoon the filling into 4 x 1 ½ cup capacity ovenproof dishes.
Cover dishes with puff pastry and brush with a little milk of egg.
Bake for 10 - 15 minutes or until pastry is golden brown.
Recipe by
Grab Your Spork | grabyourspork.com
at https://grabyourspork.com/recipes/chicken/chicken-bacon-and-leek-pies/