Blueberry and Lemon Cupcakes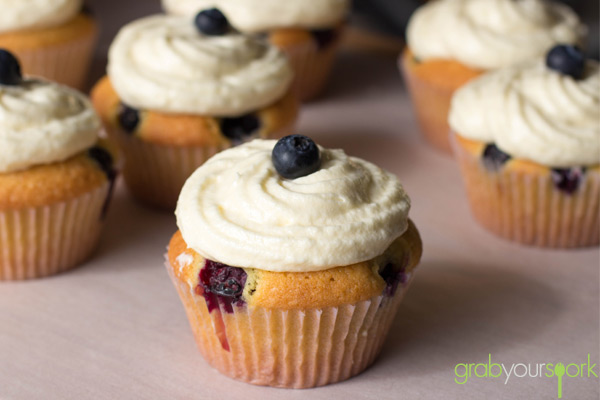 ¾ cup unsalted butter (roomtemp)
3 eggs (let stand at room temp)
1¾ cups all-purpose flour
¼ teaspoon baking powder
¼ teaspoon baking soda
¼ teaspoon salt
1¼ cups granulated sugar
¼ cup milk
2 tablespoons finely shredded lemon peel
Blueberries, coated with flour
1 cup powdered sugar
¼ cup unsalted butter (let stand at room temp)
1 block cream cheese (250g)
2 tablespoons fresh lemon juice
Preheat the oven to 180°C and place paper cups into cupcake tins.
Mix the butter and eggs.
In a medium bowl, mix the flour, baking powder, baking soda and salt together.
Mix the granulated sugar, milk and lemon peel together.
Then mix the butter and eggs into the milk and sugar mixture.
Mix the flour into the wet mixture and blend.
Fill each cup three-quarters full with batter. Drop the coated blueberries on top.
Bake for 18 to 20 minutes.
Combine the powdered sugar, butter, cream cheese, lemon juice and zest together until light and fluffy.
Pipe onto the cupcakes and decorate with lemon peel, blueberries and a mint leaf.
Decorate your cupcake with extra fresh blueberries, lemon peel or mint leaves.
Recipe by
Grab Your Spork | grabyourspork.com
at https://grabyourspork.com/recipes/baked-goods/blueberry-and-lemon-cupcakes/