Classic Meatballs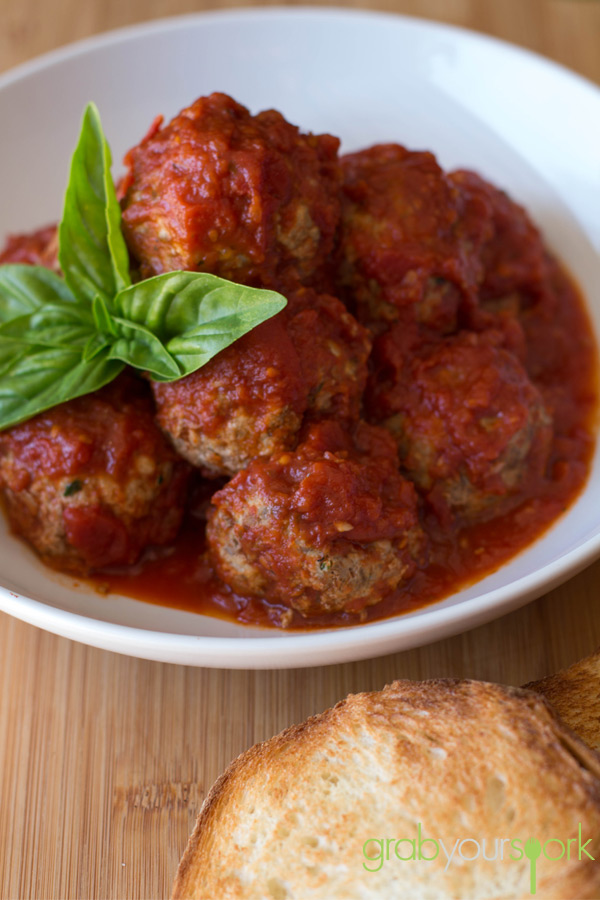 Meatballs
1 tblsp olive oil
300 g beef mince
200 g pork mince
½ cup ricotta
2 eggs, or 1 large egg
½ bread crumbs
2 tblsp fresh parsley, chopped
1 tblsp fresh oregano, chopped, or 1 tsp dried oregano
1 tsp salt
½ tsp red chilli flakes
½ tsp ground fennel
Freshly ground black pepper
2 tblsp olive oil
1 onion, diced
1 bay leaf
1 tsp fresh oregano or ½ tspn dried oregano
3 garlic cloves, crushed
1 tsp salt
2 tblsp tomato paste
3 x 400 g tinned tomatoes
Preheat over to 220C (430 F). Drizzle olive oil into a baking dish and use your hand to evenly coat the entire surface. Set aside.
Combine the mince, ricotta, eggs, bread crumbs, fresh and dried herbs in a mixing bowl. Mix by hand until thoroughly combined.
Roll the mixture into round, 1 ½ inch sized balls, making sure to pack the meat firmly. Place the balls into the prepared baking dish, being careful to line them snugly. The meatballs should be touching one another.
Roast in the preheated over for 20 minutes, or until the meatballs re firm and cooked through Meatballs should read 70C (165 F) with a meat thermometer.
While the meatballs are roasting, heat the tomato sauce over a medium heat, stirring often.
When the meatballs are firm and fully cook, remove them from the oven and drain the excess grease from the pan. Pour the tomato sauce over them. Return the meatballs to the oven and continue roasting for another 10 – 15 minutes.
Heat the olive oil in a deep pan or large pot, over a medium heat.
Add the onions, bay leaf, oregano, garlic, and salt and cook, stirring often. Cook until the onions are soft and translucent, about 10 minutes.
Add the tomato pasta and continue cooking or 5 minutes.
Add the tomatoes and stir constantly until the sauce begins to boul. Lower the heat and simmer for 1 hour, stirring every 5 minutes or so to prevent the sauce on the bottom of the pot/pan from burning.
Taste and season with additional salt, or oregano if desired.
Remove the bay leaf before serving.