Vietnamese Rice Paper Rolls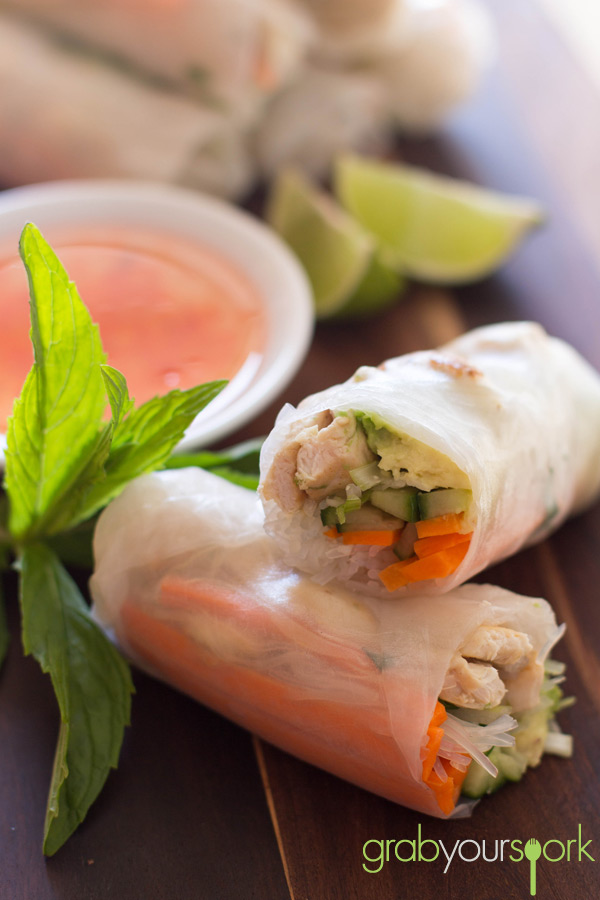 500 g chicken breast or tenders, cut into small pieces
1 lime, zested
2 garlic cloves, crushed
1 Tsbp olive oil
1 lebanese cucumber, core removed and cut into matchsticks
2 carrots, peeled and cut into matchsticks
1 large avocado, cut into slices
Spring onions, cleaned and cut into matchsticks
¼ cup mint, chopped
Vermicelli noodles
Rice paper wrappers
Firstly, marinate the chicken. Mix the zest, garlic and oil together in a bowl with chicken. Set aside for marinate for at least one hour or longer.
Heat a pan over medium heat and grill the chicken until cooked through. Set the chicken aside to cool
Once the chicken is cool, toss the chopped mint through the chicken.
Cook the dried vermicelli noodles to packet instructions. Drain and cool.
When you're ready to assemble the rolls, fill a shallow dish with warm water.
Dip one rice paper wrapper into the water for thirty seconds and place on a clean flat surface.
Place a couple of chicken pieces along a third of the wrapper. Top with noodles, and a couple of slices of cucumber, carrot, spring onion and avocado. Roll into a tight spring roll shape, according to the instruction on the packet.
Repeat with the remaining rice paper wrappers and filling.
Serve the spring rolls whole, or sliced in half with a nice dipping sauce.