Zucchini and Bacon Slice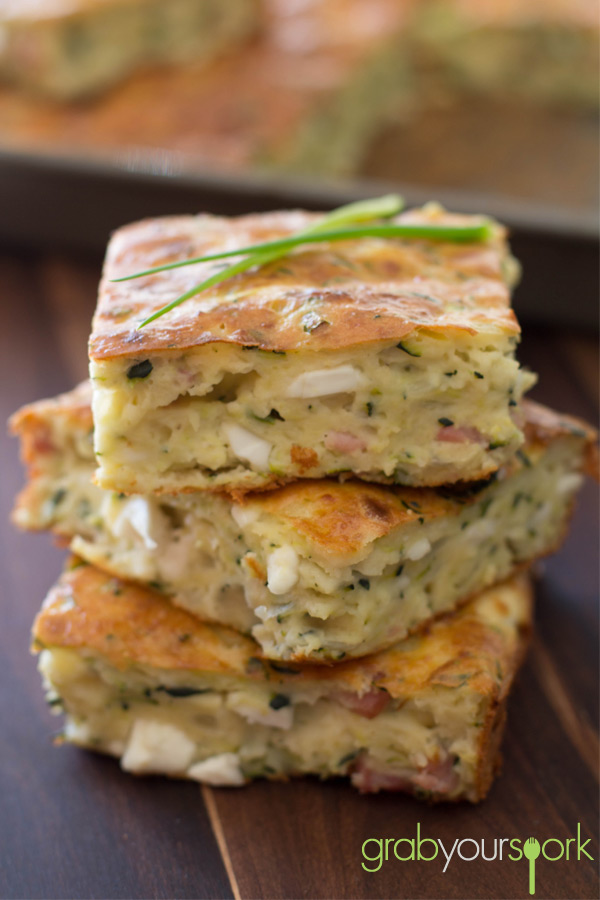 1 tablespoon olive oil
1 onion, finely chopped
2 cloves garlic, crushed
4 rashers bacon, rind removed and chopped
2 zucchinis (courgette), grated
200g feta, crumbled
200g ricotta
½ cup (40g) finely grated parmesan
¼ cup chopped chives
sea salt and cracked black pepper
6 eggs
1 cup (150g) self-raising (self-rising) flour, sifted
Preheat oven to 180°C (350°F).
Heat the oil in a large non-stick frying pan over high heat. Add the onion, garlic and bacon and cook for 5 minutes or until light golden.
Place in a bowl with the zucchini, feta, ricotta, parmesan, chives, salt and pepper and mix to combine.
Place the eggs and flour in a bowl and mix well to combine. Add to the zucchini and mix to combine.
Spoon into a lightly greased 20cm x 30cm tin lined with non-stick baking paper and smooth.
Bake for 40–45 minutes or until golden and cooked through.
Cut into slices to serve.