Ham and Cheese Croquettes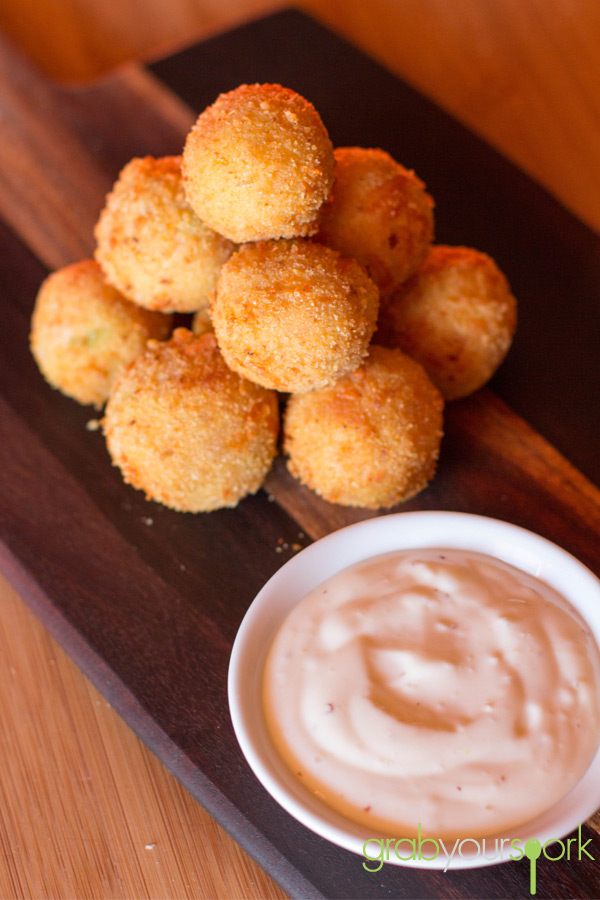 2 tablespoons unsalted butter
2 tablespoons olive oil
1 small onion, finely chopped
Coarse salt and freshly ground pepper
7 tablespoons all-purpose flour, plus more for shaping
¾ cup whole milk
½ finely chopped ham of your choice
½ cup plus ¼ cup grated Pecorino cheese
3 large eggs
1½ cups fresh breadcrumbs
Vegetable oil, for frying
2 tablespoons spring onion
Heat butter and oil in a medium saucepan over medium heat until butter has melted.
Add onion, and cook until onions are translucent.
Add flour gradually; cook, stirring, 1 minute.
Whisk in milk gradually ensuring no lumps and cook, whisking.
Whisk in ham, ½ cup cheese, and spring onions.Season with salt and pepper as desired.
Spread mixture onto a baking sheet, and let cool completely.
Whisk together eggs in a shallow dish. Stir together breadcrumbs and remaining ¼ cup cheese in another dish.
Scoop tablespoons of cooled mixture, and shape.
Working with 1 ball at a time, coat in beaten egg, then in breadcrumb mixture. Repeat and transfer to a baking sheet lined with parchment paper.
Heat 2½ inches oil in a large, heavy stockpot until it reaches 375 degrees.
Working in batches, fry croquettes, flipping once, until golden brown, 1 to 2 minutes total.
Using a slotted spoon, transfer to paper towels to drain. (Adjust heat between batches as needed to keep oil at a steady temperature.)
Serve warm.