Cranberry and Pistachio Biscotti Recipe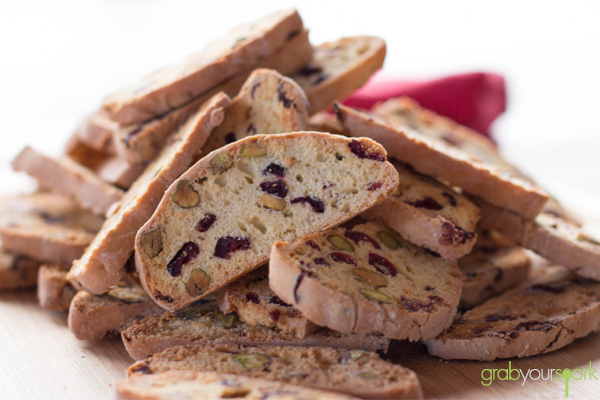 2 cups plain flour, sifted
1½ tsp baking powder sifted
¾ cup caster sugar
3 eggs, lightly beaten
2 tsp vanilla extract
1 tbsp finely grated orange rind
1 cup sweetened, dried cranberries
1 cup shelled unsalted pistachios
Preheat oven to 160°C.
Place flour, baking powder and sugar into a bowl and mix to combine.
Add eggs, vanilla, orange rind, cranberries and pistachios and mix until you form a dough.
Turn the dough out onto a table and with some flour, knead until smooth.
Form into two logs and flatten slightly. Bake in oven on lined baking trays for 30-35 minutes or until firm. Allow to cool completely.
Once cooled use a serrated knife to cut thin slices and place them back on baking trays.
Reheat oven and increase temperature to 180°C.
Bake biscotti for a further 8-10 minutes or until crisp. Cool on the tray for a few minutes before sampling.