Pork Gyoza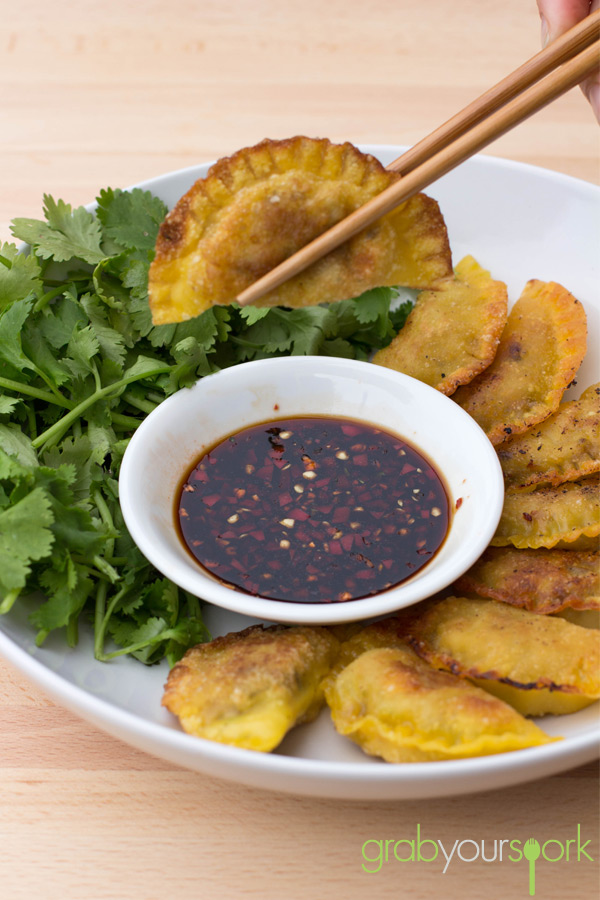 250 g pork mince
¼ cabbage, shredded
100 g shitake mushrooms, diced
2 cloves garlic, crushed
1 tbsp ginger, grated
1 tsp red chilli, thinly diced
2 tsbp coriander, chopped
2 spring onions, thinly sliced
1 tsp sesame oil
2 tbsp hoisin sauce
1 tbsp soy sauce
1 tsp white pepper
2 tbsp vegetable oil
36 won ton wrappers
Soy sauce for serving
In a large bowl combine mince, cabbage, mushrooms, garlic, ginger, spring onions, chilli, coriander, pepper and sauces. Mix well.
To assemble place 1 tsp of the mixture into the centre of each wrapper. Using your finger, rub the edge of the wrappers with a little water.
Fold the dough over the filling to create a half moon. Pinch the edges together or use a fork to seal.
Heat oil in a large pan over a medium heat. Add the gyoza and cook until golden and crispy.
Serve immediately with soy sauce.