Pumpkin and Leek Tart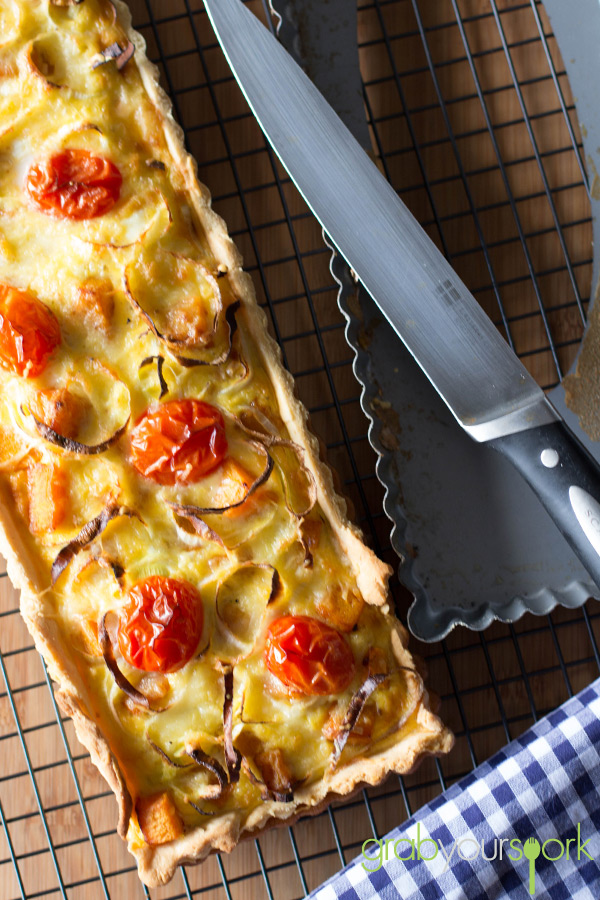 1⅔ cups (250g) plain flour
125g unsalted butter, chilled, finely chopped
1 egg, chilled
1 Tbsp cold water
300g pumpkin, cubed
1 leek, washed and sliced
½ cup cheese, grated
4 eggs
3 – 4 cherry tomatoes, cut in half
120 ml thickened cream
2 tbsp onion flakes
1 tsbp butter
1 tsp garlic, crushed
salt and pepper
To make the pastry, place the flour and butter in the bowl of a food processor and process until mixture resembles fine breadcrumbs. Add the egg and water and process until the mixture just comes together. Turn dough onto a lightly floured surface and knead until smooth. Shape into a disc. Wrap in plastic wrap and place in fridge for 15 minutes to rest.
Meanwhile, melt the butter in a frying pan over medium heat. Add the pumpkin and garlic and cook, stirring, for 10 minutes or until soft. Remove from heat.
Preheat oven to 200°C.
Roll out the pastry into a 3mm thick rectangle or disc. Line a round 23cm (base measurement) fluted tart tin or a 33cm x 9cm rectangular tart with removable base with pastry and trim any excess. Place in the fridge for 15 minutes to rest.
Cover pastry with non-stick baking paper and fill with rice or dried beans. Place on a baking tray. Bake in oven for 10 minutes. Remove paper and rice or beans, and bake for a further 8 minutes or until golden. Remove from oven. Reduce oven temperature to 180°C.
Fill pastry base with pumpkin, onion flakes, leeks, cheese and tomatoes.
Whisk cream and eggs together in a jug. Spread over pastry base.
Bake in oven for 10 to 15 minutes until golden brown.