This choc chip coffee biscotti recipe opened my eyes to the flavours you can have in biscotti. Before this recipe, I had only tasted Brooke's cranberry and pistachio biscotti, which is amazing. But this coffee biscotti made with a combination of coffee, chocolate, walnuts, and cinnamon might be my new favourite!
We opted to use milk chocolate chips, however, you could use dark chocolate if you want to make it a bit healthier. Adding toasted walnuts delivers a slight hint of bitterness that cuts through all that sweetness, and adds a second layer of crunch.
The coffee biscotti's crisp and crunchy texture comes from baking the cookies twice. The first baking sets the dough, while the second baking dries it out. The biscotti's instantly recognizable long curved shape comes from forming the dough into a log and then cutting the log into slices after the first baking. The slices of biscotti are then baked until most of their moisture is removed.
Vary the length of the second bake to change the texture of your biscotti recipe. If you like a hard and crunchy biscotti, perfect for dipping in your coffee, you can bake them a bit longer than we did in the recipe. These cookies do store for several weeks in an airtight container making them perfect for unexpected guests or for keeping at your desk at work.
I love my coffee so there is only one thing better than drinking a coffee, drinking a coffee while eating a piece of this choc chip coffee biscotti!
Recipe adapted from Crumb.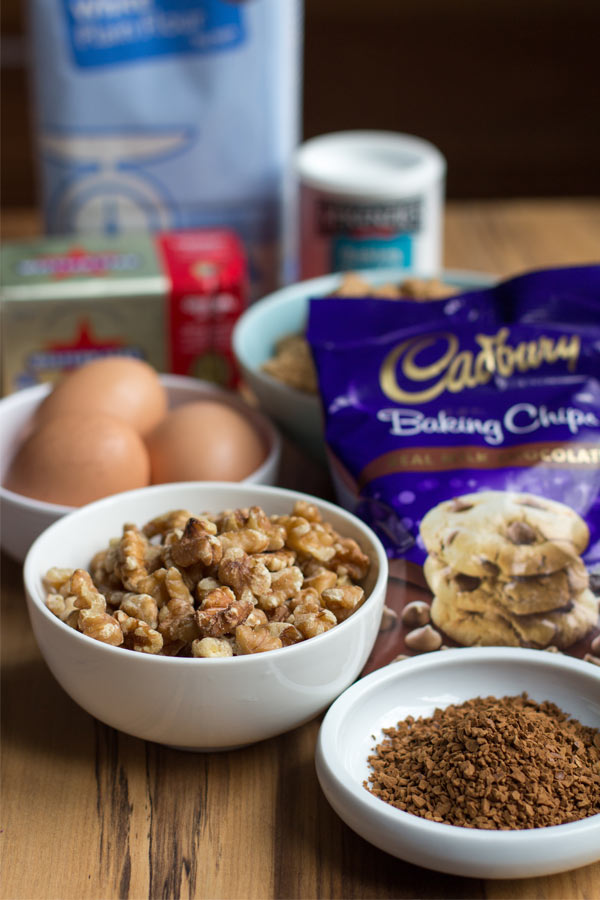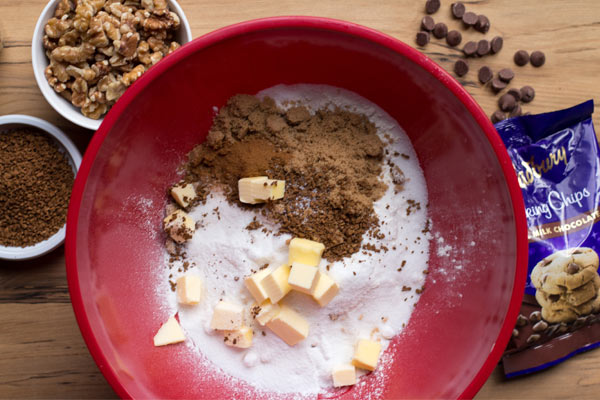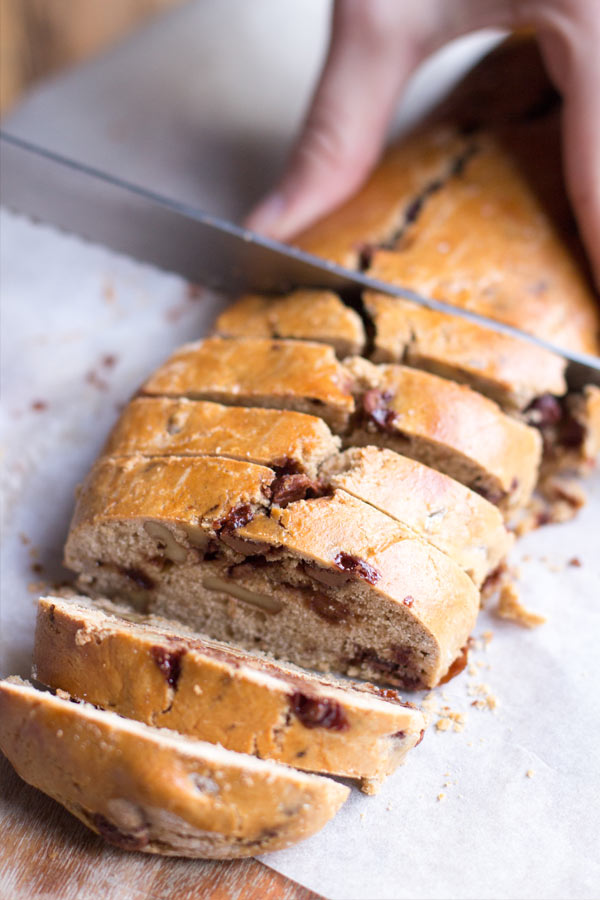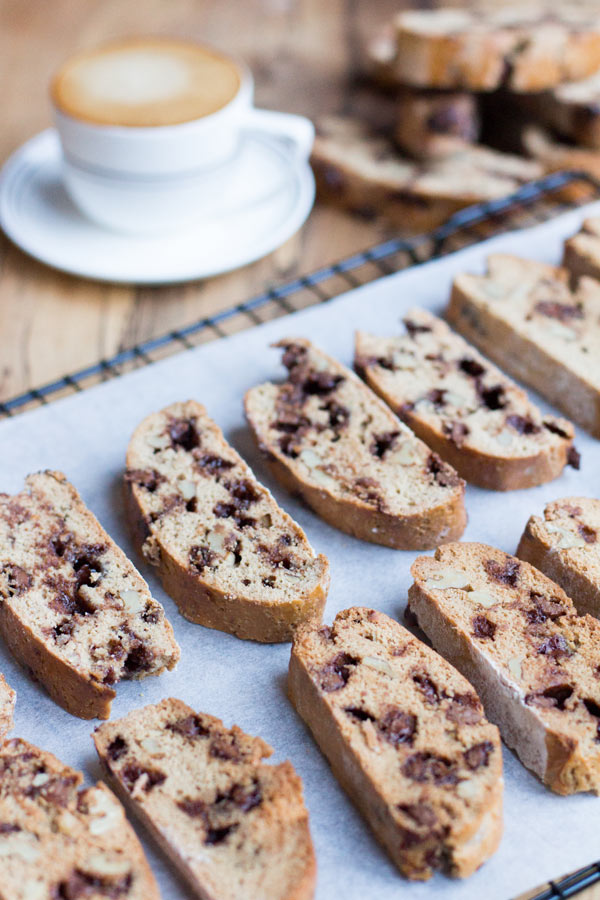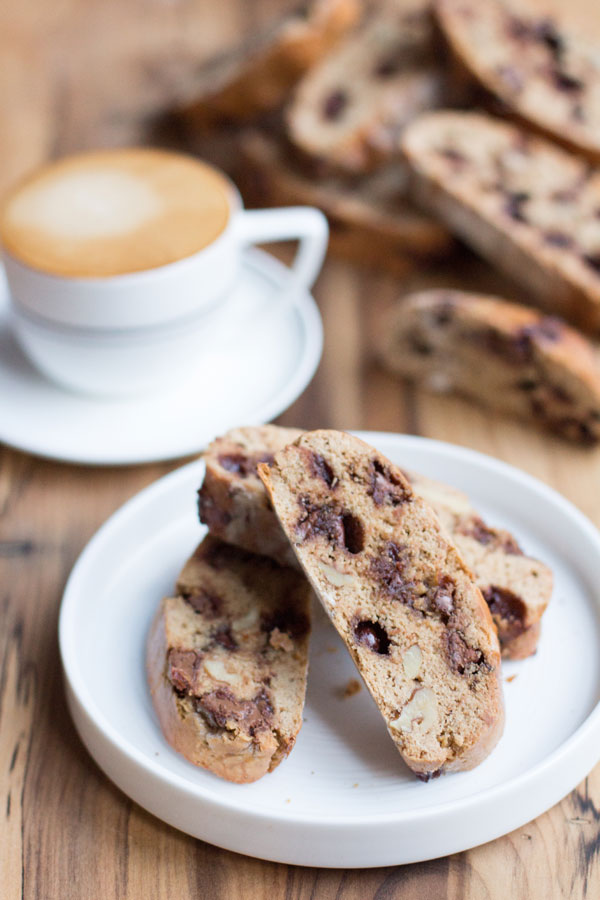 Coffee biscotti – Recipe Instructions
Choc chip coffee biscotti recipe
Coffee biscotti made with a combination of coffee, chocolate, walnuts, and cinnamon.
Ingredients
2 cups flour
½ cup sugar
½ cup brown sugar
1 tsp baking powder
1 tsp instant coffee granules
½ tsp ground cinnamon
½ tsp salt
¼ cup cold (cut into small cubes)
1 cup milk chocolate chips
½ cup chopped toasted walnuts
3 eggs, lightly beaten
Egg wash (1 egg, lightly beaten with 2 tbsp milk)
Instructions
Preheat oven to 180 Celsius (350F). Line two large baking sheets with parchment.
In a large mixing bowl, combine flour, sugar, brown sugar, baking powder, coffee granules, and salt. Using a pastry cutter or 2 knives, cut in the butter until the mixture is fine and crumbly.
Stir in chocolate chips, walnuts, and eggs until the dough is just barely moistened. Turn out onto a lightly floured surface, and knead lightly until the dough is soft and slightly sticky, about 8-10 times.
Using floured hands, divide the dough into quarters. Shape each quarter into a 9" long roll. Place two rolls 4 inches apart on each of the prepared cookie sheets, gently flattening each one into a 2" wide slab. Brush the top and sides with egg wash.
Bake in preheated oven for 30 minutes, or until the top of the slabs feels firm and dry. Remove from the oven, but do not turn off the heat. Set the slabs on a wire rack to cool for 10 minutes.
Once the slabs are cool enough to handle, cut crosswise into ½ inch thick slices. Place slices upright, inch apart, on cookie sheets.
Place the slices on the baking sheet, cut sides down, and return to the oven to bake for 10 minutes. Turn biscotti over, and continue baking for another 10 minutes (the cookies should be just a bit soft in the center – don't worry, they'll harden up once they cool). Transfer to a wire rack to cool completely, then store in airtight containers.