It's turned cold here in Melbourne. Cold winter weather means it's time for soup, and this healthy vegetarian zucchini soup recipe is one to add to your winter dinner or lunch roster. It's incredibly simple to make, creamy, and packed with flavour even though there's less than 7 core ingredients.
When Brooke first said that she was making a healthy vegetarian zucchini soup, I've got to admit I was pretty sceptical. Firstly, I've never had a zucchini soup before and secondly, green soup just doesn't exactly scream delicious if I'm honest. One spoonful of this soup and I was eating my words as well as a second bowl of soup!
Brooke loves this vegetarian zucchini soup recipe because it's simple, quick and can be made in one pot. The fact that it is so flavourful, smooth and satisfying, as well as vegetarian is just an added bonus. Made in under 30 mins it's perfect for people who are time poor. I think recipes which can be made quickly and in one pot (or pan) are a win for both parties as I'm in charge of the washing up at our house.
This recipe was inspired by one of Brooke's friends who has been making it for years. The great thing about this recipe is it has just 7 core ingredients. With winter now here in Australia soup is the perfect healthy dinner option. On dark and cold winter nights, this creamy healthy vegetarian zucchini soup will warm you right up.
This is definitely one of my new favourite soup recipes, but if you are looking for others, then you should check out our Cauliflower Soup Recipe or Roasted Pumpkin and Sweet Potato Soup Recipe.  If you are looking for something to serve with your soup our Savoury Muffin Recipe pairs perfectly also.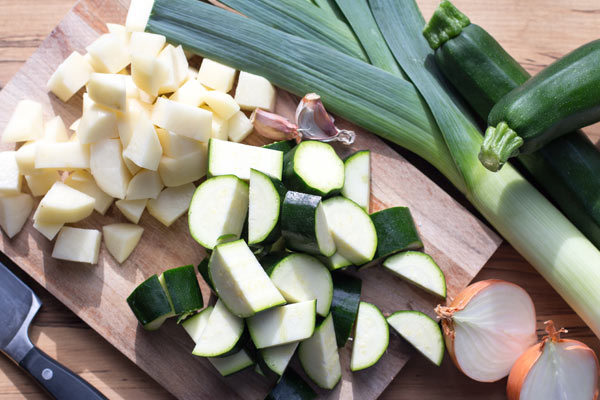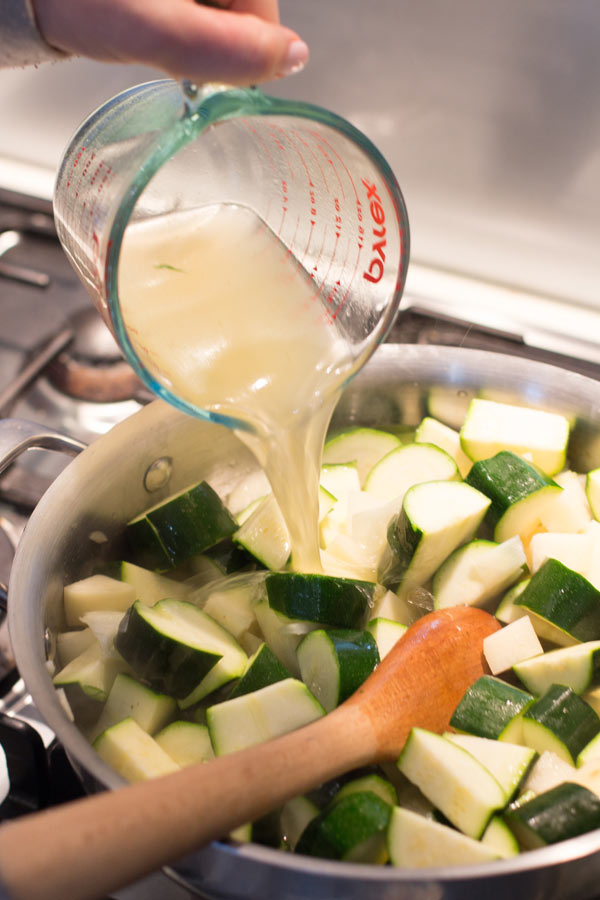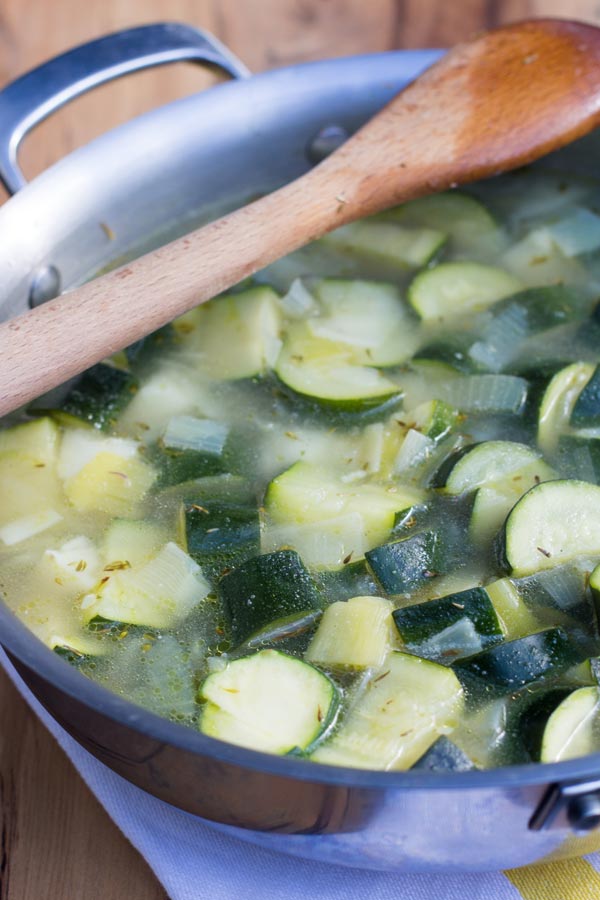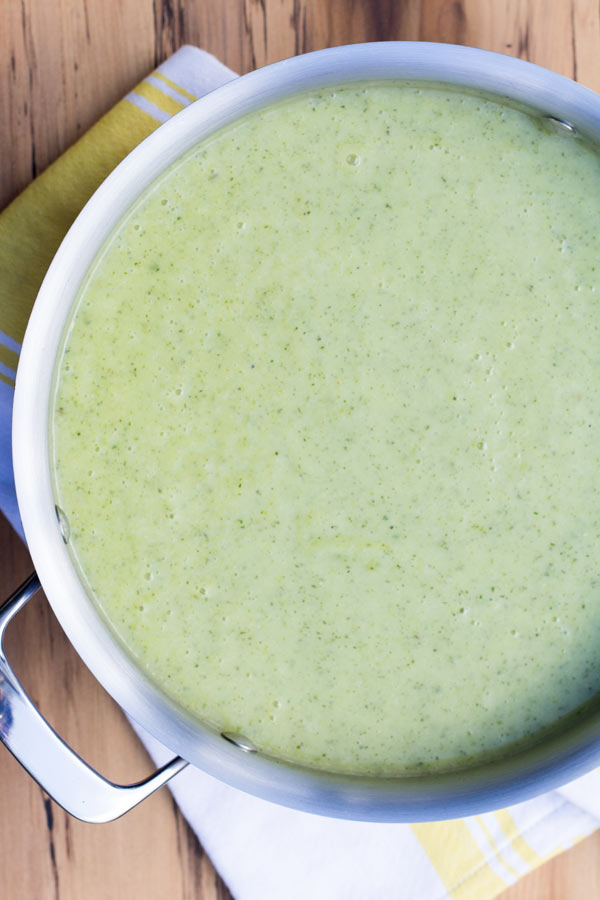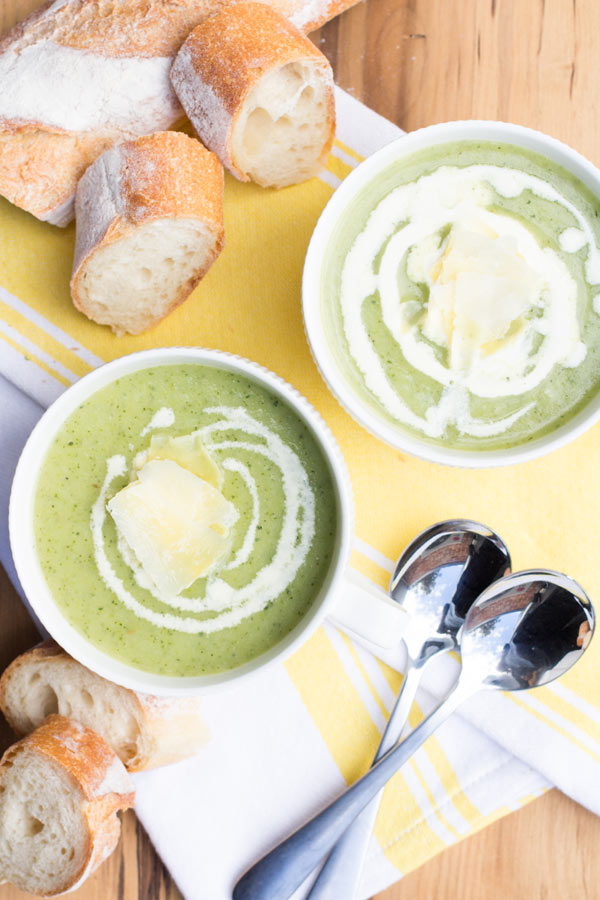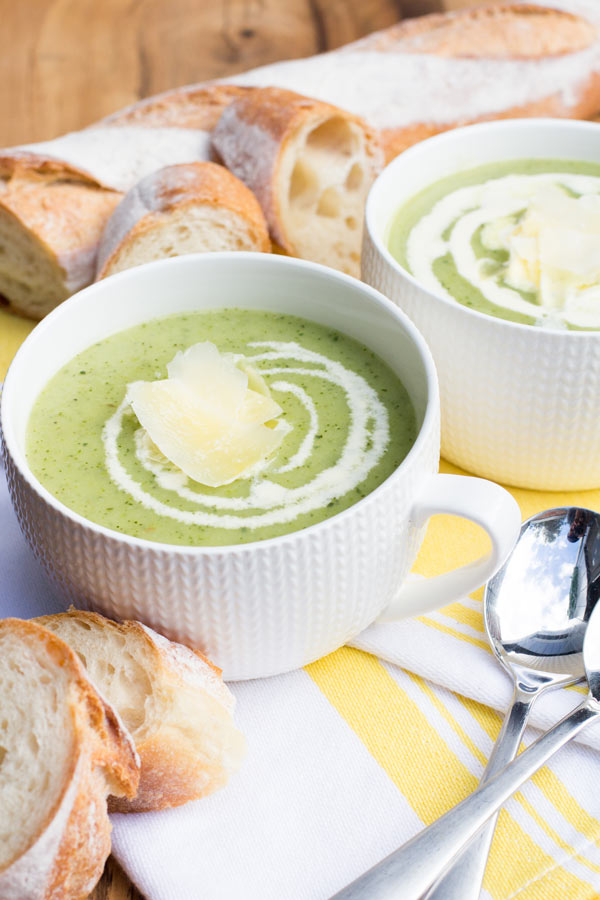 Creamy Healthy Vegetarian Zucchini Soup – Recipe Instructions
Healthy vegetarian zucchini soup recipe
Healthy vegetarian zucchini soup recipe is incredibly simple to make, it is so creamy, and packed with flavour even though there's less than 7 ingredients.
Ingredients
1 tbsp oil
4 medium sized zucchini chopped
1 leek, chopped
1 brown onion, diced
2 garlic cloves, crushed
2 potatoes, chopped
1 tsp dried tsp Thyme leave
4 cups stock (vegetable)
Salt and pepper
Cream and Parmesan cheese to serve
Instructions
Heat oil in a large saucepan over medium heat. Add the leek, onion, garlic and thyme and cook, stirring, for 1 minute or until the onion and leek softens slightly.
Increase heat to high. Add the zucchini, potato, stock and bring to the boil. Cook, stirring occasionally, for 10 minutes or until the potato is tender. Remove from heat and cool for 5 minutes.
Blend together in a food processor or blender until smooth. Return soup to the heat to warm through.
Season with salt and pepper. Serve with cream or parmesan cheese (or both!) and with crusty bread.