This weekend Brooke set herself the challenge of making her own Hot Cross Buns, so of course I wasn't going to object. Fresh spiced fruit buns from the oven? Yes please! Hot Cross Buns are one of my favourite things to eat at Easter. Traditionally we eat these yummy spiced buns on Good Friday, however each year they are available to buy in the shops earlier and earlier (I even think I saw them as soon as Christmas was over!).
Traditional Hot Cross Buns are usually made with currants or raisins and flavoured with mixed spice. To make our recipe we made our own Mixed Spice and used dried cranberries and apricots. I'm not saying that you can't just use the normal mixed spice from the shops, however through making your own you can adapt the intensity of each spice to your preference – for hot cross buns Brooke added a bit more cinnamon.
To make the buns, there are a few steps but mainly it is just waiting for the dough to rise that takes up most of the time. With the strong smell of mixed spice filling the house patience was definitely getting the better of me! After making the dough, letting it rise, kneading it again, and dividing it into your buns. You need to let to dough rise once more before adding the traditional flour paste as the cross. Note if you aren't a fan you don't have to add it. You could easily cut a cross in the bun giving it a nice rustic look. After all this, bake your buns in a moderate oven for around 20 minutes or until cooked through.
To give the buns a nice glossy finish you need to make a simple glaze through boiling water and sugar on the stove. To enhance the combination of cranberry and apricot Brooke added a little orange zest to her glaze this time.
After some quality control let me assure you these Cranberry and Apricot Hot Cross Buns are delish!
If your looking for another variant this on these delicious buns then try our Apple and sultana hot cross buns.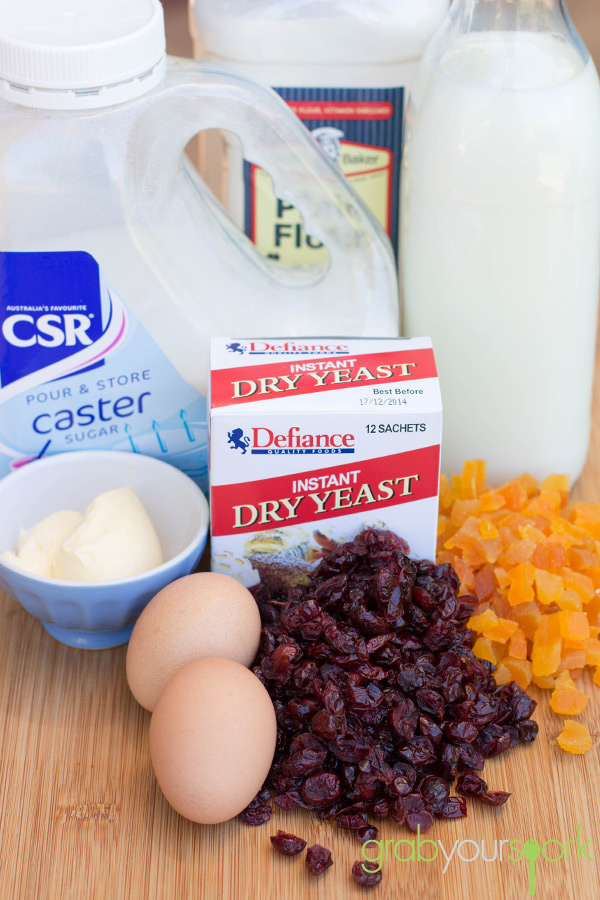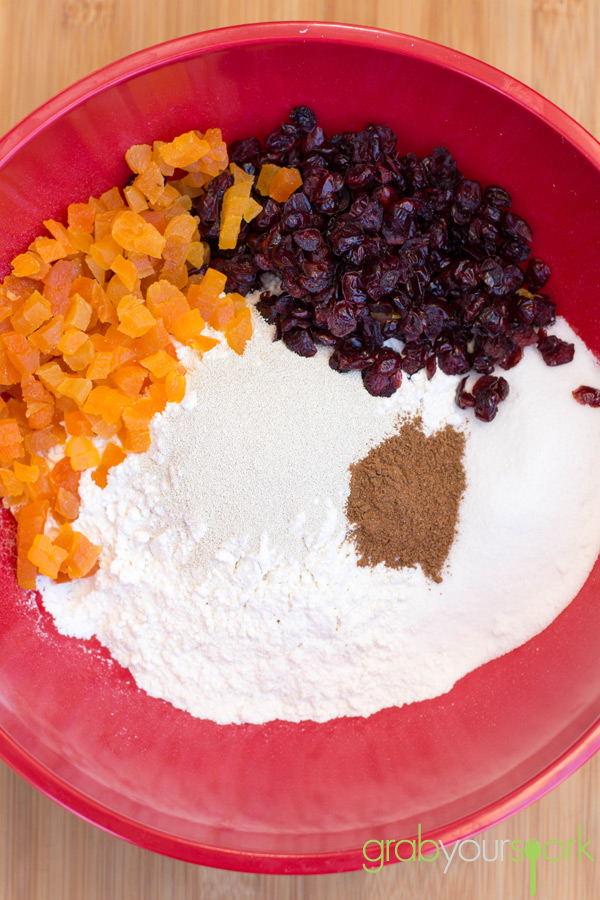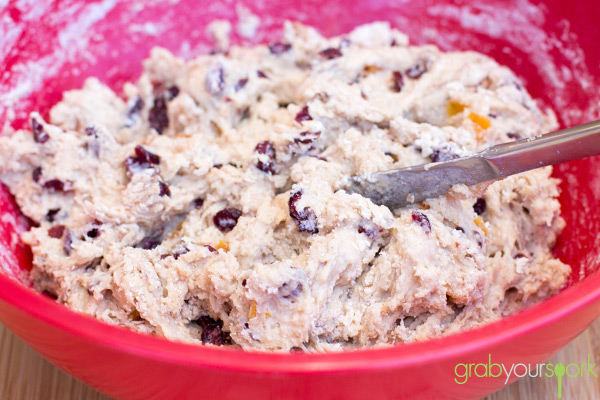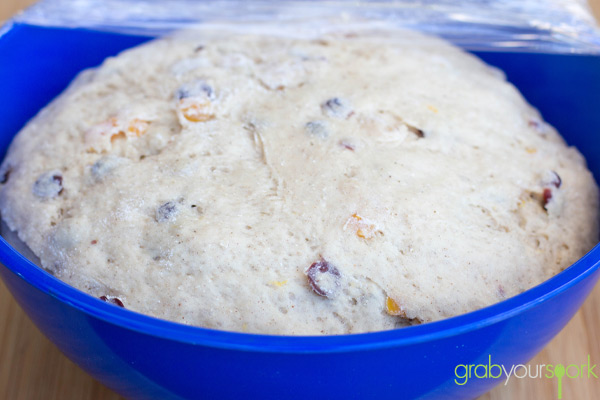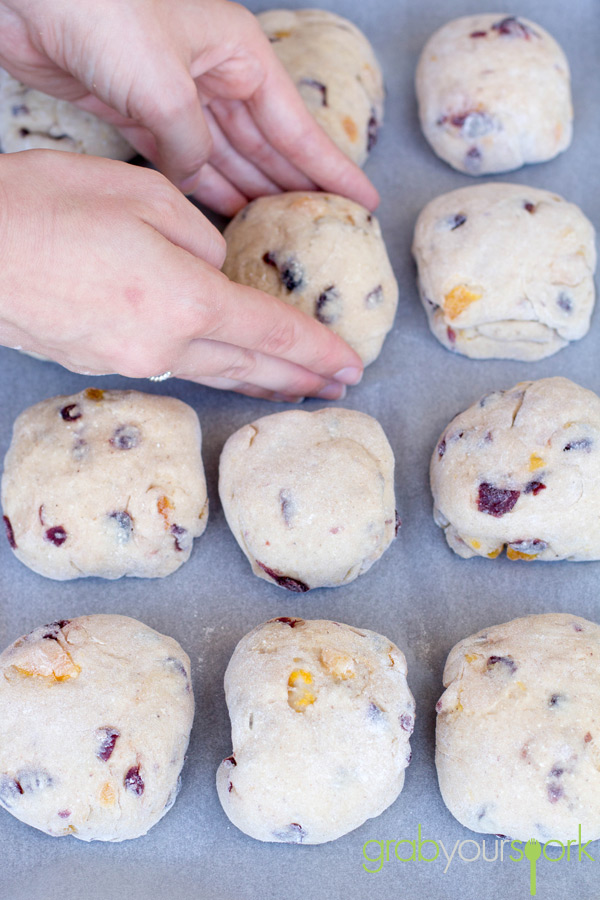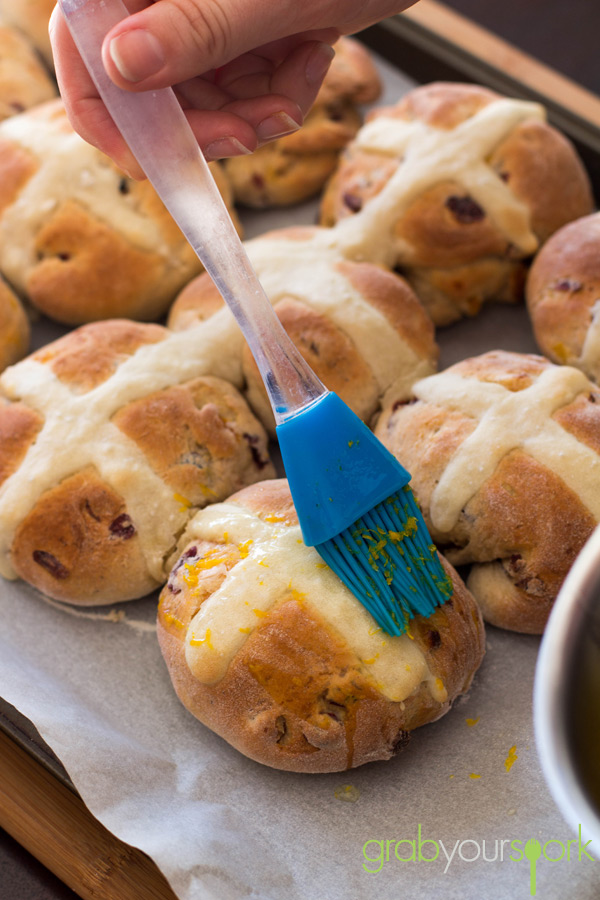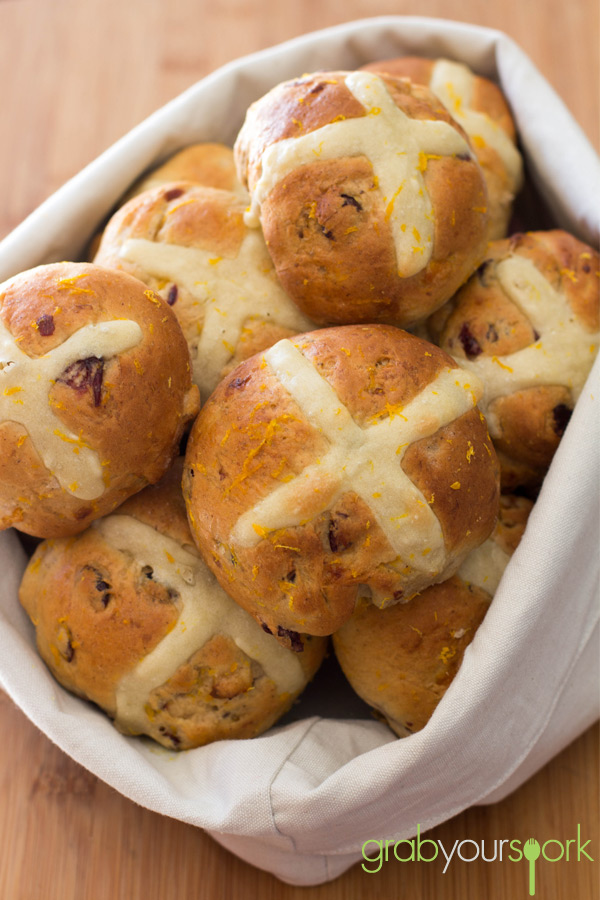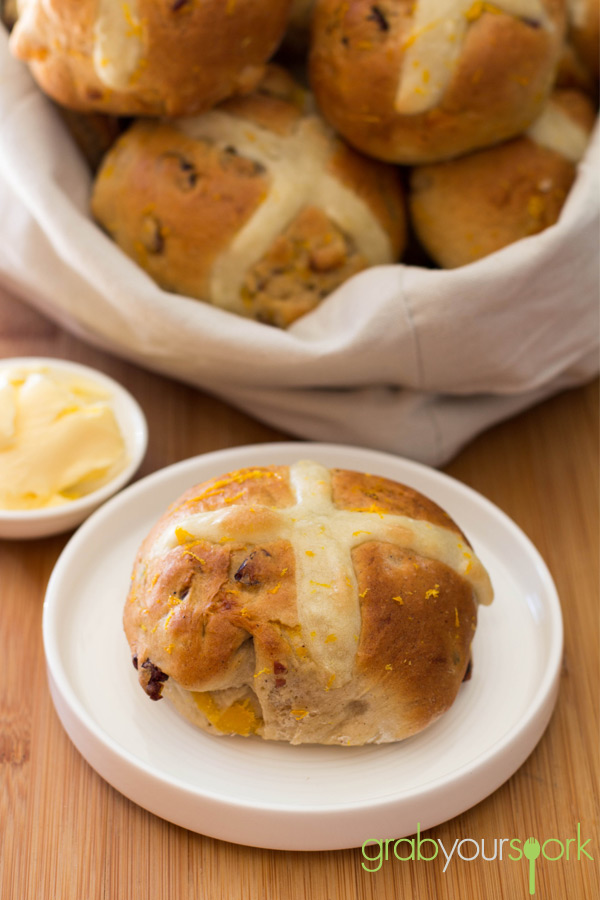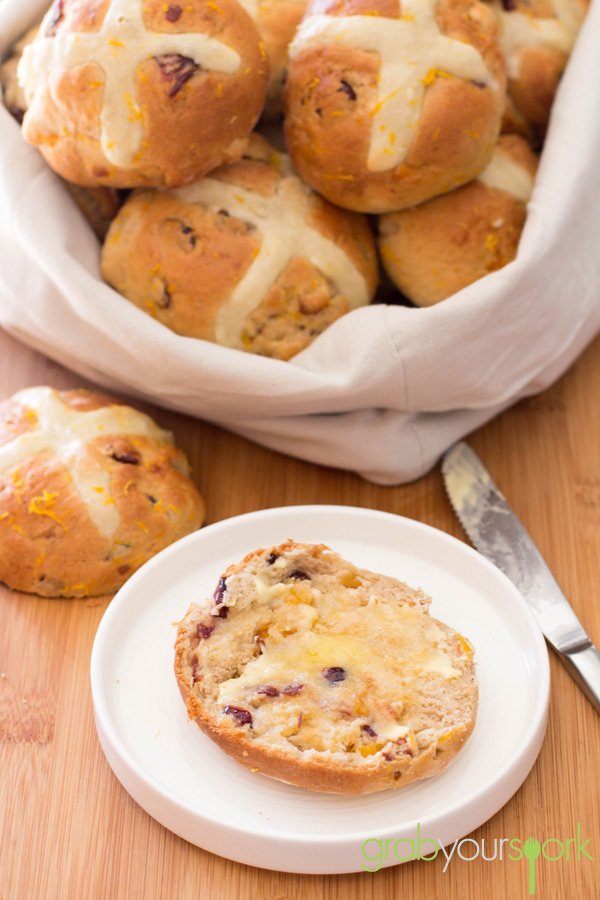 Cranberry and Apricot Hot Cross Buns
Check out this recipe for rustic Hot Cross Buns made with mixed spice, dried cranberries and apricots.
Ingredients
Buns
4 Cups Plain Flour
14 g Dried Yeast
¼ Cup Caster Sugar
2 Tsp Mixed Spice
Pinch of Salt
¾ Cup Dried Cranberries
¾ Cup Dried Apricots, diced
40 g Butter
300ml Milk
2 eggs, lightly beaten
Flour paste
½ Cup Plain Flour
4 to 5 Tbsp water
Glaze
⅓ Cup Water
2 Tbsp Caster Sugar
1 Tsbp Orange Zest (optional)
Instructions
Combine flour, yeast, sugar, mixed spice, salt and cranberries and apricots in a large bowl.
Melt butter in a small saucepan over medium heat. Add milk. Heat for until lukewarm.
Add warm milk mixture and eggs to fruit mixture. Using a flat-bladed knife, simply cut the knife through the dough until it almost comes together. Using clean hands to finish mixing to form a soft dough.
Turn dough out onto a floured surface. Knead for 10 minutes, or until dough is smooth.
Place into a lightly oiled bowl. Cover with plastic wrap. Set aside in a warm, draught-free place for 1 to 1½ hours, or until dough doubles in size.
Line a large baking tray with non-stick baking paper.
Punch dough down to its original size. Knead on a lightly floured surface until smooth.
Divide into 12 even portions. Shape each portion into a ball. Place balls onto lined tray, about 1cm apart. Cover with plastic wrap. Set aside in a warm place for 30 minutes, or until buns double in size.
Preheat oven to 190°C.
Make flour paste: Mix flour and water together in a small bowl until smooth, adding a little more water if paste is too thick.
Spoon into a small snap-lock bag. Snip off 1 corner of bag. Pipe flour paste over tops of buns to form crosses.
Bake for 20 to 25 minutes, or until buns are cooked through.
Make glaze: Place water, sugar and zest into a small saucepan over low heat. Stir until sugar dissolves. Bring to the boil. Boil for 5 minutes.
Brush warm glaze over warm hot cross buns.
Serve warm or at room temperature