After another cold and wet week here in Perth, I am sure I am not the only one who is wishing for clear blue skies and warm days again. If the Sticky Date and Banana Loaves weren't enough of a winter indulgence last week, how about a humble Apple and Rhubarb Crumble?
I love apple crumble and when rhubarb is in season, its vibrant colour, and tartness is a great accompaniment to sweet dishes such as tarts, cakes and classic crumbles. After a quick trip to the markets, we managed to nab the last bunch of beautiful rhubarb for our crumble.
After chopping the apples and rhubarb into rather large chunks, Brooke simply added a little brown sugar to the fruit then made a basic crumble using butter, caster sugar, plain flour and some rolled oats. Within a couple of minutes the crumbles are prepared and ready to be cooked in a moderate oven.
Once the crumbles are golden brown on the top they are ready to be served. Of course these will be very hot when they come out the oven so to serve we had some fresh thickened cream, or some custard or ice cream would definitely be an excellent addition!
Looking for other fruit-based desserts then check out our Fruit and Custard Tart Recipe or Lemon and Blueberry Loaves.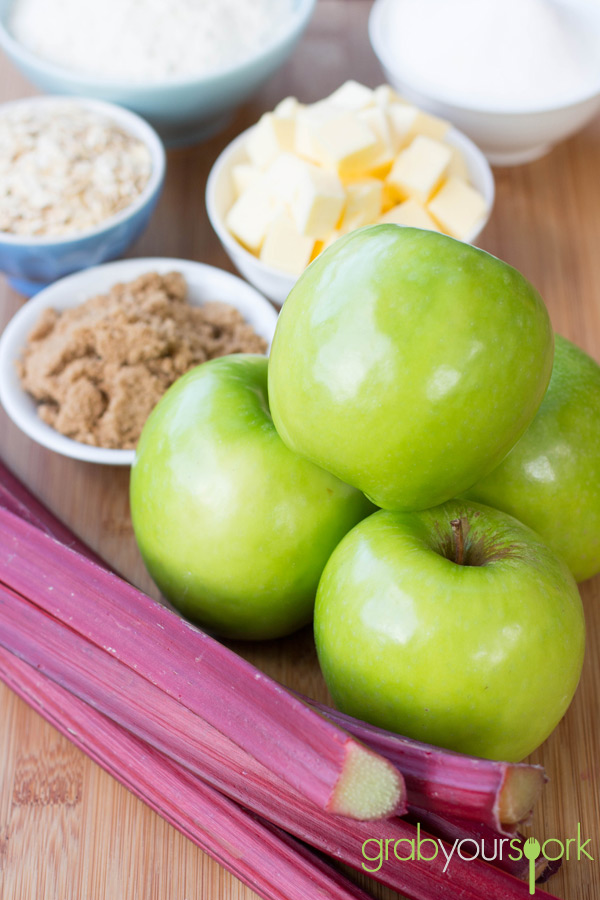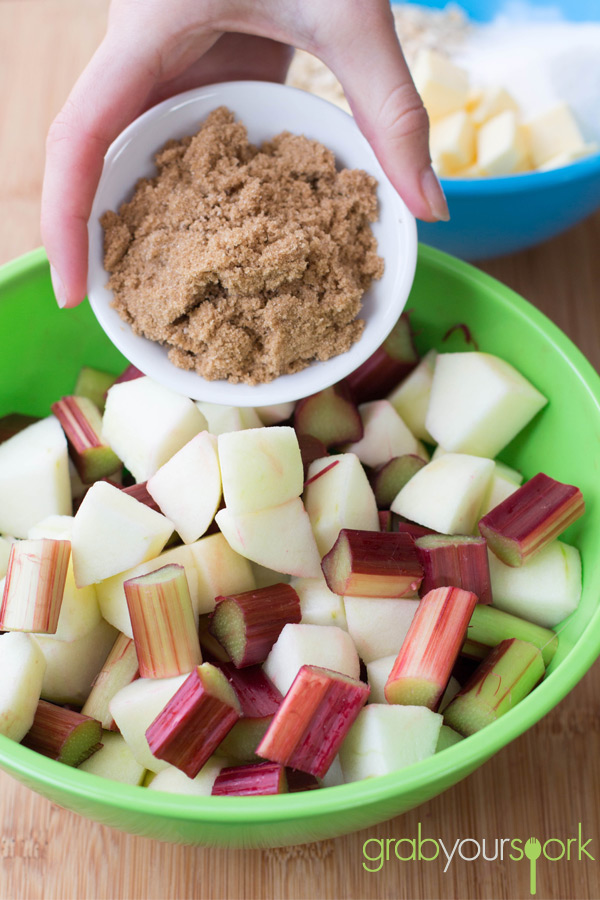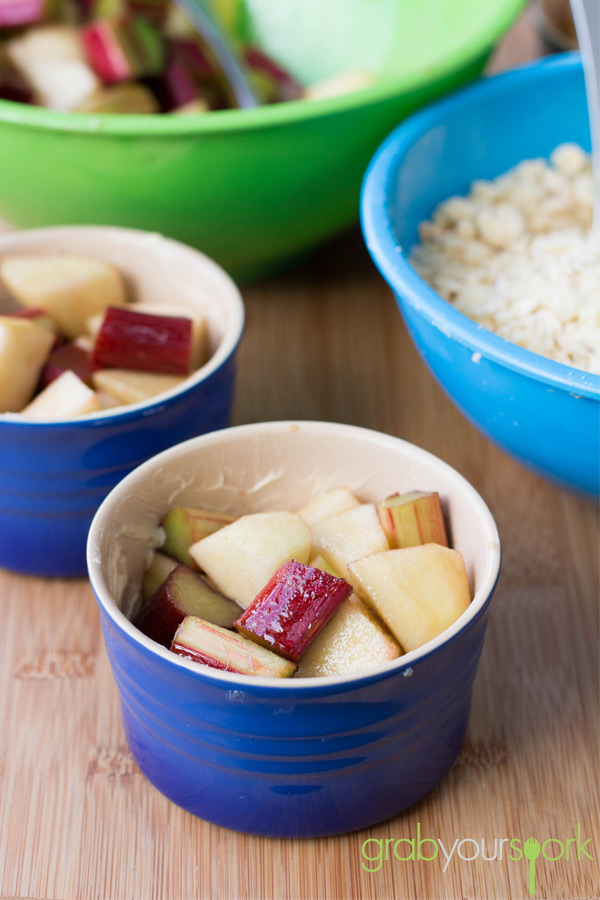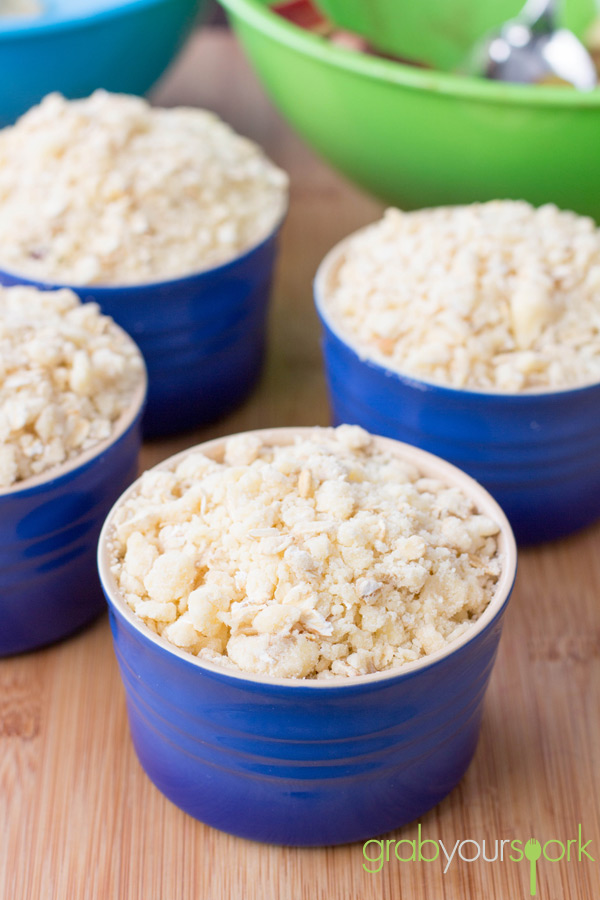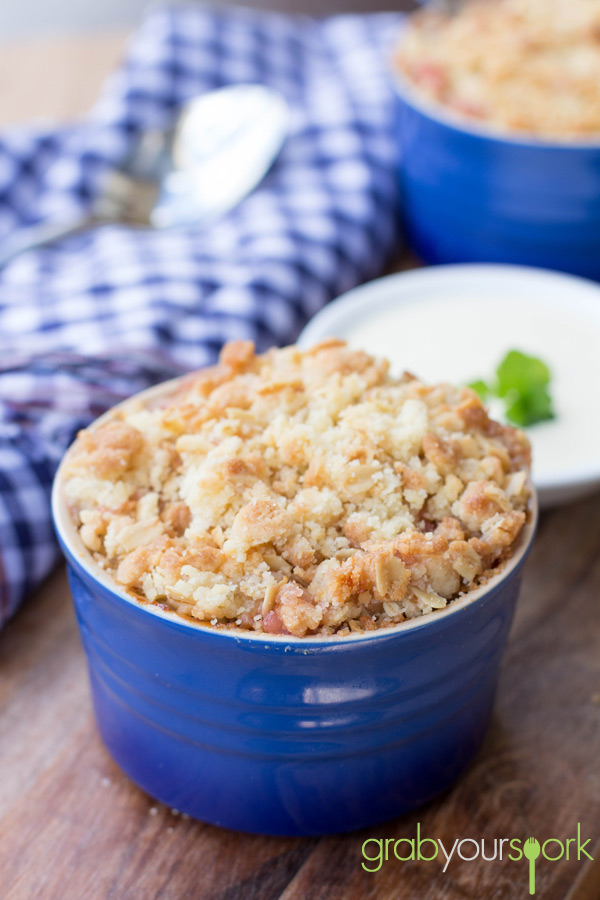 Tasty Apple and Rhubarb Crumble – Recipe Instructions
Apple and Rhubarb Crumble
The ultimate in winter indulgence. A humble Apple and Rhubarb Crumble served with fresh thickened cream.
Ingredients
4 larges green apples, peeled and chopped
1 bunch of rhubarb, approx. 5 stalks, chopped
2 tbsp brown sugar
1 cup plain flour
½ cup rolled oats
75g caster sugar
125g butter, at room temperature
Instructions
Preheat the oven to 180°C. Lightly grease 4 ramekins or a large baking dish.
Place the prepared apples and rhubarb in a bowl and stir through brown sugar.
Place the flour, butter, caster sugar and oats in a medium bowl. Use your fingers or a fork, rub in the butter until well combined and large crumbs form.
Spoon the fruit into the prepared dishes, sprinkle the crumble topping evenly over the fruit. Bake for 15 to 20 minutes or until golden and bubbling.
Serve with cream, ice cream or custard.