There's nothing better than homemade sausage rolls, and these homemade Caramelised Apple and Fennel Pork Sausage Rolls are so tasty I bet you can't just eat one! Sausage rolls are popular all year round here in Australia, especially as a casual snack at a party due to their quick and easy to make reputation.
In recent years sausage rolls have got somewhat of a bad name, due to the mass produced versions you find in supermarkets with zero flavour and zero nutrition. As with most things when making your own sausage rolls, using high-quality ingredients returns this classic to their flavoursome best.
The sweet caramelised apple and fennel spice, mixed with pork – combines to give a sweet, juicy, slightly spicy pork filling that's wrapped in a buttery, flaky puff pastry goodness. It's the small touches that make this recipe great, caramelising the apple takes these sausage rolls to a whole new level, which is bordering on gourmet.
If you have time you can make these sausage rolls with homemade puff pastry, instead of store bought, but as we were short on time we went with store bought puff pastry.
We like to serve our homemade Caramelised Apple and Fennel Pork Sausage Rolls with Beerenberg Tomato Chutney a gourmet chutney we discovered when in South Australia.  If you have time making some from scratch is also an option, but to be honest you can eat them without any kind of dipping sauce. Too much sauce can take away from the delicious apple, fennel and pork filling.
If you're looking for other pork recipes, then check out our pulled pork tacos recipe or Asian BBQ pork ribs.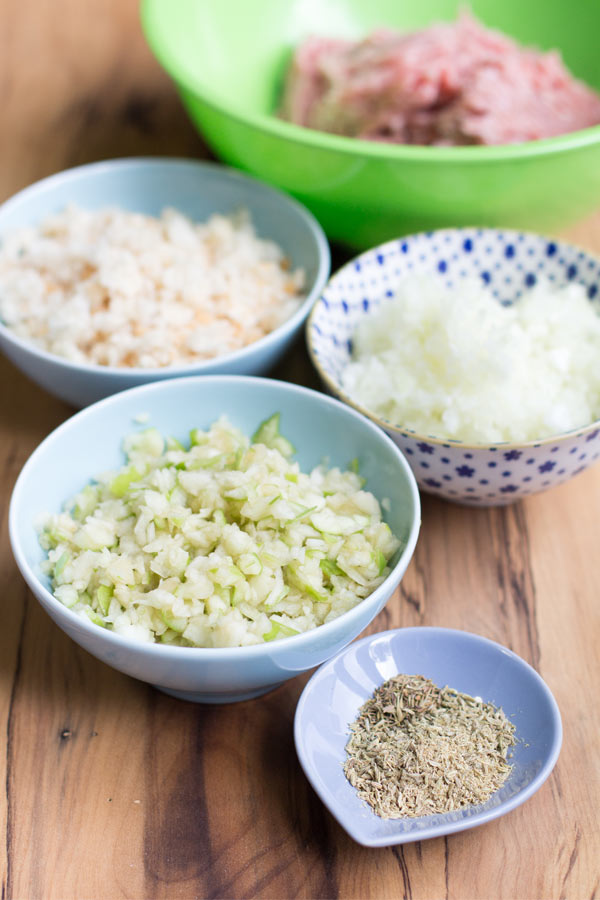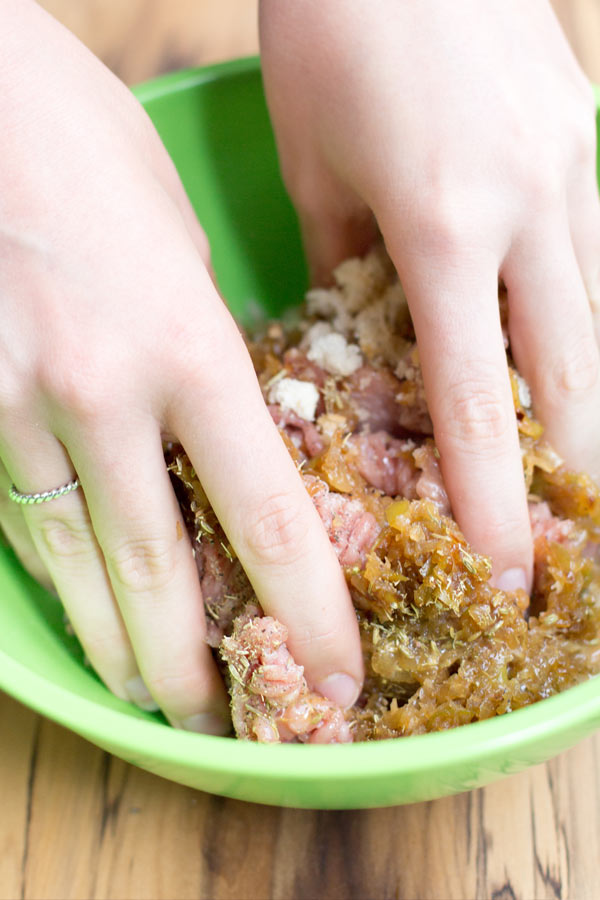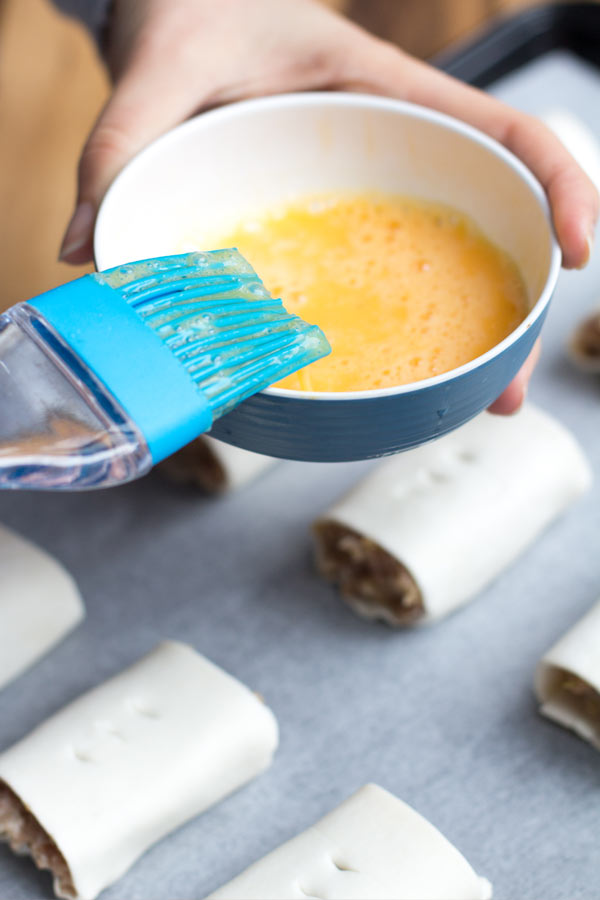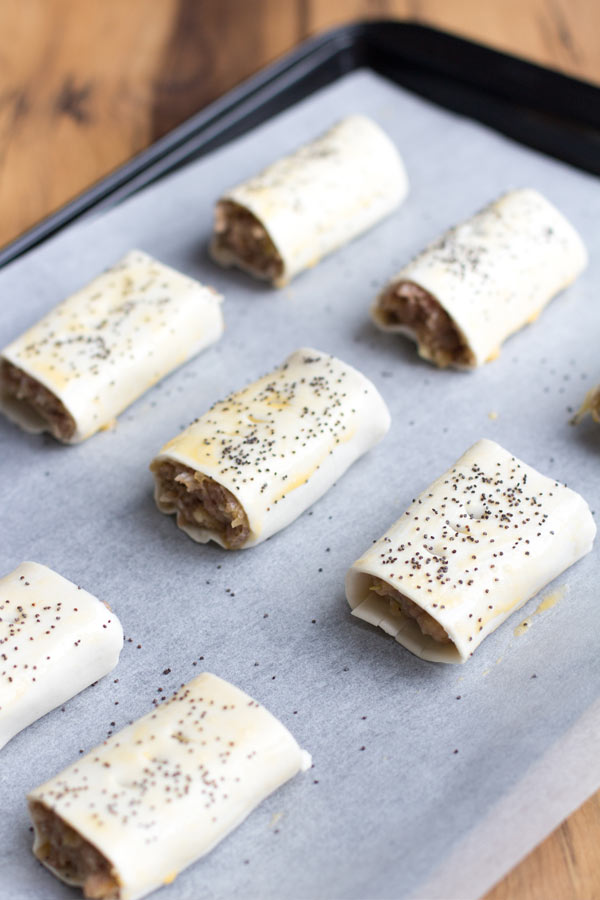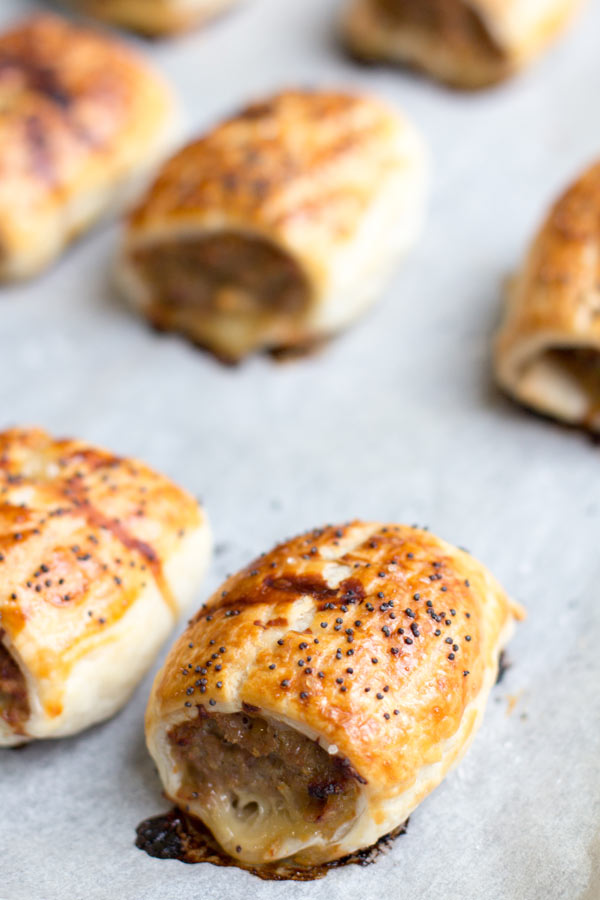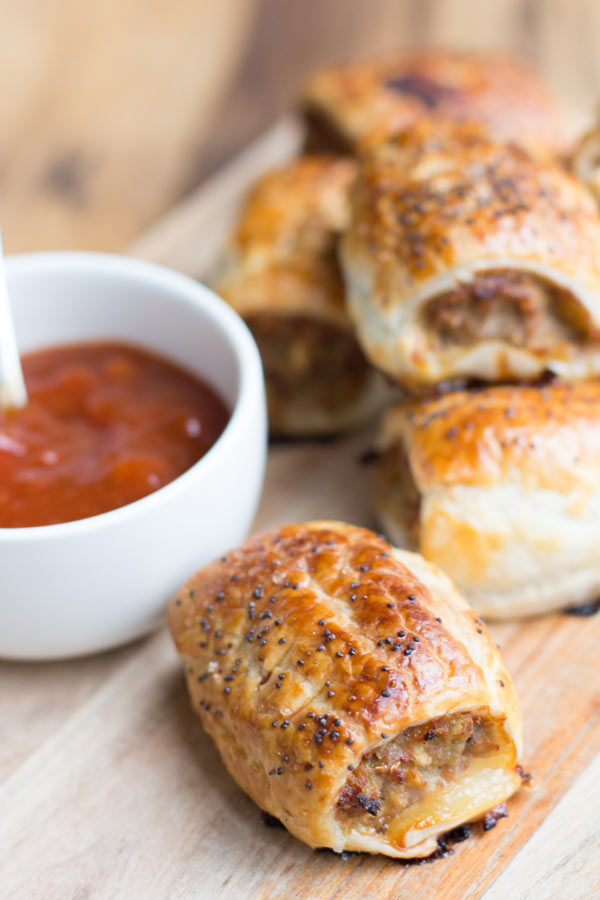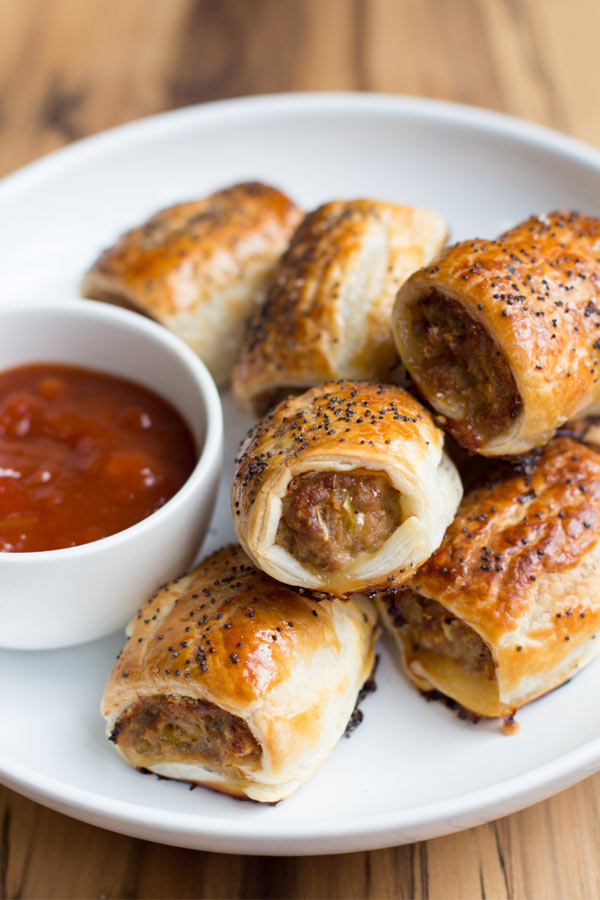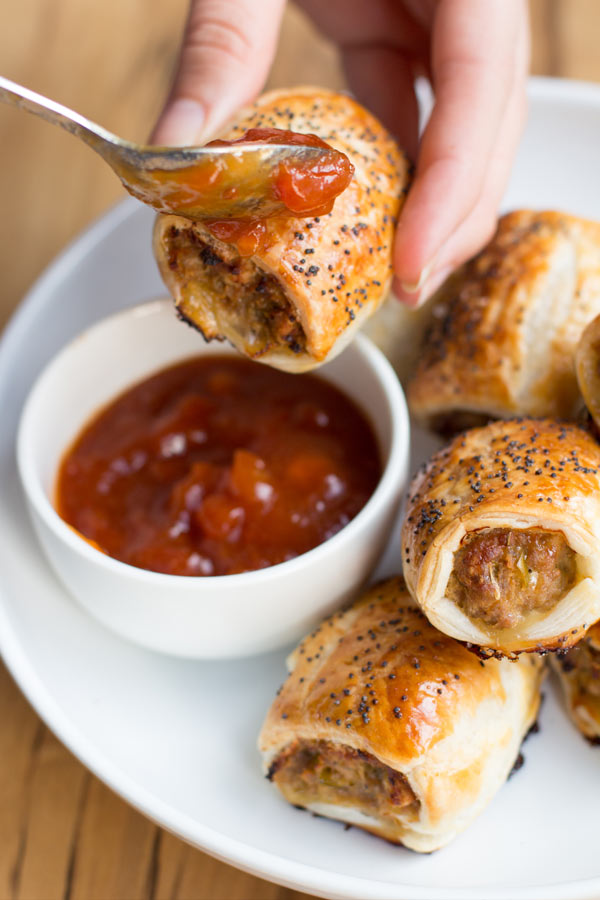 Caramelised Apple and Fennel Pork Sausage Rolls Recipe
There's nothing better than homemade sausage rolls, and these homemade Caramelised Apple and Fennel Pork Sausage Rolls are so tasty I bet you can't just eat one!
Ingredients
Caramelised Apple
2 tbsp butter
1 granny smith apple, finely diced
1 small brown onion, finely diced
2 tbsp brown sugar
2 tbsp apple cider
¼ tsp salt
Sausage Rolls
500g pork mince
Caramelised apple
2 large cloves of garlic, chopped finely
1 tsp dried thyme
2 tsp ground fennel seeds
1 cup fresh bread crumbs
1 egg
salt and pepper
2 sheets of frozen puff pastry (9 x 9 inches)
To finish
1 egg - for egg wash
Sea salt flakes
poppy seeds
Instructions
Heat 2 tbsp of butter in a nonstick pan. When melted, add the onions and apple and saute over medium heat until the mixture starts to turn golden brown, about 10 minutes.
Add the brown sugar, apple cider and salt and cook for another 5-10 minutes until the liquid is reduced and the apples have caramelised. Set aside to cool slightly.
Preheat oven to 180°C. Line a baking tray with baking paper.
In a bowl, place the pork mince, breadcrumbs, garlic, herbs, egg then add the cooled caramelised apple mixture and salt and pepper to season. Mix with your hands or a spoon, until everything is mixed through well. Divide the mix into four portions.
Place one puff pastry sheet on your bench and cut it in half, so you have two 9 x 4.5 inch rectangles. Take a single portion of the sausage filling and while leaving a 1 cm margin, place the filling along one long edge of the puff pastry rectangle, evenly. Brush both long edges with some egg wash, and carefully roll up the pastry sheet with the sausage filling, until the ends overlap by about 1 cm. Gently pinch the two ends together to create a seal. Place the seam side down, and cut this roll into 4 equal parts (with a back and forth motion using a serrated knife so that you cut evenly and smoothly). Place the 4 sausage rolls on the baking tray, slightly apart.
Repeat with the remaining puff pastry sheet to make 16 sausage rolls in total.
Using a small sharp knife, make two slits on the top of each sausage roll. Brush the tops generously with egg wash and sprinkle some salt and poppy seeds (optional).
Bake in the oven for 15 minutes, and then increase the heat to 190°C and bake for a further 30 minutes or until they are golden brown.
Take out of the oven, allow them to rest for a few minutes, and serve while warm.