Whenever we are within close proximity to a bakery I must get a hot jam doughnut! Seriously no matter what time of day it is, it is always time for a jam doughnut. What's not to love about them? They are deep fried balls of sweet doughy goodness, coated in sugar and filled with delicious jam. This homemade hot jam doughnuts recipe will have you making these finger licking sugary treats at home instead of buying them from the bakery!
Last weekend while we were cooking up a storm we added this hot jam doughnuts recipe into the mix. However, is it easier to go out to the shops and buy a doughnut? Yes. Do you end up with sugar throughout the house? Yes. Is it worth making your own doughnuts at home? Definitely yes! Brooke might not be as keen to make them again. As similar to the recent post on hot cross buns, there are a lot of steps and patience is key while letting the dough prove.
When making this recipe you need to be mindful of how thick you roll your dough. As you let your dough rise again once it is in circles, it will continue to rise and will puff up when you cook it in the oil. I would aim for around 2.5cm thick, as any thicker and your doughnuts won't cook in the middle and be darker than necessary on the outside.
Once you have cooked your doughnuts evenly on both sides, drain excess oil and immediately roll in sugar. Allow to cool before filling with delicious jam. We used traditional strawberry this time (which needs to be strained before piping). However, you can fill with other flavoured jams, custards, chocolate or just simply add some cinnamon to the sugar and leave them plain.
I think my sugary grin showed how much I liked these!
If you like sweet treats then check out these our recipes for Chocolate mint fudge, No bake Mars bar slice, or passionfruit marshmallows.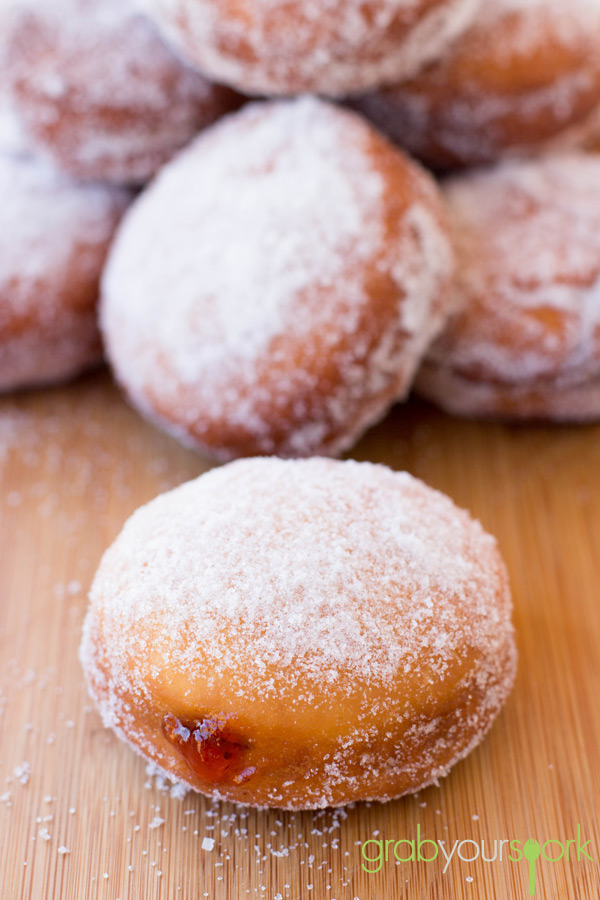 Homemade hot jam doughnuts – recipe instructions
Jam Doughnuts
Jam Doughnuts aka deep fried balls of sweet doughy goodness, coated in sugar and filled with delicious jam.
Ingredients
1 pkg dry yeast 8 grams
1 cup cooled whole milk
2 large egg yolks
¼ cup granulated white sugar
2 Tbsp. melted butter
½ tsp. vanilla
½ tsp. salt
Approximately 3½ cups all-purpose flour
Vegetable Oil, for frying
White Granulated Sugar, for dusting after frying
Jam or custard, for filling (be sure to strained seeds from jam)
Instructions
In a small saucepan, heat milk until steaming with small bubbles forming around the edges. Remove from heat and let cool to lukewarm.
To activate the yeast, in a large bowl add the yeast and pour in the lukewarm milk. Let it stand for 5 minutes.
Add 1 cup of flour. Mix together and let stand for 20 – 30 minutes, until really bubbly.
Beat the yolks in a small bowl until they are light and fluffy.
To the proofed yeast mixture, add the melted butter and sugar and mix.
Add salt and vanilla. Add beaten egg yolks.
Slowly add rest of the flour to bowl in ½ cup increments just until a very soft dough form that is moist but not sticky. Knead on the bench to ensure your dough is formed.
Grease a clean bowl and add dough. Cover bowl with plastic wrap and let rise in warm place until doubled.
Deflate dough and pat out onto floured cutting board. With a rolling pin, gently roll into a 2.5cm thick circle. Gently cut out circles with a biscuit cutter. Place onto a parchment lined baking sheet, cover and let rise until doubled (about 30 minutes).
Heat a deep fat fryer to 190°C. Once the balls have doubled in size, carefully place them, one by one, into the fryer. Be mindful not to cook too many at a time as this well reduce the temperature of the oil.
Once the underside is golden brown, use a slotted spoon to gently turn over. Continue to fry until evenly coloured.
Remove doughtnuts to a cooling rack for about 30 seconds, then immediately roll in granulated sugar. Let stand until completely cooled.
Once cooled, using a sharp knife, poke a hole on the side. Use a pastry bag with a large plain tip to pipe the jam or custard filling inside.
These are best when freshly made, but you can freeze any extras.